The business of carbon reduction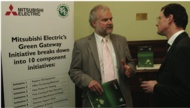 Mitsubishi Electric's LES division is moving on from debating climate change to identifying and promoting how to reduce carbon emissions with the launch of its 'Green gateway initiative'.Just as the designers of buildings and their services are changing their perspective in response to growing pressures to reduce carbon emissions and, in particular, Part L, so manufacturers are changing their product offering and the way they go to market. Responding to the fact that 40% of Europe's energy is used for heating, lighting, cooling and generally running homes and commercial properties, the UK environmental living systems division (LES) of Mitsubishi Electric [it used to be called air conditioning] has been devising an approach to market that will contribute to reducing carbon-dioxide emissions by 3 Mt a year by 2016.
Industry responsibility
Called the 'Green gateway initiative', it has been presented to politicians in the House of Commons following a visit to Mitsubishi at Hatfield by local MP Grant Shapps. The message from Donald Daw, commercial director of Mitsubishi LES, was, 'Our industry purpose is to provide comfortable living and working environments. Our responsibility is to do this with minimum energy use.' The thinking behind the 'Greenway gateway initiative' is directed by three key questions. • Should the growth of the UK heating and cooling industries continue in the current direction — unchecked by new thinking and the adoption of more sustainable technologies?
• When will public opinion and legislation focus more specifically on the sectors, and how can the heating and cooling industries collectively act to support the UK Government in its goals to reduce carbon-dioxide emissions?
• How should companies like Mitsubishi Electric LES continue to grow their businesses in a sustainable and responsible manner, whilst using their market presence to influence change. A host of ideas has been identified, of which a few are summarised below. Much more can be downloaded from the company's web site (see 'Finding out more...' below). First, Donald Daw points to the much higher efficiency of modern air-conditioning equipment using R410A than R407C equipment. The respective COPs of new equipment are 3.6 and 2.4, so an R410A system uses a third less energy. In addition, loss of performance of the older equipment over 10 years sees its COP fall to 1.8, so the new equipment is twice as efficient as the old. While old equipment can be repaired and restored to as-new efficiency, Donald Daw feels that equipment should be replaced after 10 to 15 years and encourages the uptake of incentives or financial packages to offset replacement costs — especially Enhanced Capital Allowances. Much of the materials in old air-conditioning units can be recovered (85 to 95%), and Mitsubishi LES has devised a recycle path. Mindful that air conditioning is much more than just comfort cooling, Mitsubishi LES is to remove all cooling-only products from its range — thereby encouraging the use of heat pumps for space heating. Not only do heat pumps emit 40% less carbon dioxide overall for space heating than gas-fired boilers but using heat pumps for space heating avoids cooling and heating systems attempting to counteract each other. Air-source heat pumps are the easiest to apply and have a substantially lower capital cost than ground-source and water-source heat pumps. Heat-pump technology without comfort cooling also offers carbon-reduction benefits, and three key markets have been identified. • New-build residential properties heated by underfloor systems and low-temperature emitters.
• DHW for commercial applications — especially recovering heat from elsewhere in the building The benefits of heat-pump technology are substantial, and it is calculated that each 100 kW of heating moved from a gas boiler to heat pump will prevent emissions of 7 kg of carbon dioxide — a reduction of a third.
Energy recovery
Integrating ventilation services and heating/cooling of a building also offers the potential for large energy savings. Donald Daw explains that if the air-conditioning setpoint is 21° or higher, free cooling can be provided in London whenever the outdoor temperature is from 8 to 20°C. That amounts to 2314 h a year, or 58% of hours from 8 a.m. to 6 p.m. If the setpoint is higher, even more free cooling can be provided. Even when the outdoor temperature is above 20°C and cooling is required, energy should still be recovered for that 797 h a year (20% of office hours). Likewise, when the outdoor temperature is below 8°C 877 h a year or 22% of office hours) and heating is required, heat should be recovered from extract air. Making such energy recovery practicable is Mitsubishi's Lossnay system, which is said to save up to 30% on initial capital costs of heating/cooling plant and reduce energy costs by 20 to 50%.
Domestic air conditioning
Finally, Mitsubishi has thought carefully about a major threat to reducing carbon emissions — the widespread use of air conditioning in homes. Donald Daw says, 'The industry must downgrade expectations for the growth of air conditioning the UK domestic market. Instead, alternative and more sustainable ways to cool homes in the UK are available and should be actively examined and promoted.' To establish if air conditioning is really needed in UK homes, Mitsubishi has devised an independent model. It suggests that temperatures in bedrooms during the night will exceed 24°C on about 20 days a year. If a house is fitted with mechanical ventilation having free cooling, 24°c will not be exceeded in bedrooms between 10 p.m. and 6 a.m. — prompting Donald Daw to assert, 'Mechanical air conditioning is therefore not necessary to maintain night-time comfort.' Lots of technology is available to reduce energy consumption and carbon emissions. Mitsubishi Electric LES has also thought carefully about how to encourage its use. Among various initiatives is a award scheme for the contractor buying the highest proportion of products from a 'green list' and rewards for its own sales people selling products from this list. There will also be a programme of recognition for customers purchasing products from this 'green list'. Donald Daw summarises, 'As a nation, we have to accelerate change in "heating" and address "cooling" in a responsible manner. Managing the internal temperatures of the environments in which we live, work and learn has to keep pace with the new technologies that are available and the incremental savings in CO2 that are eminently achievable.'
Related links:
Related articles: