The circle of life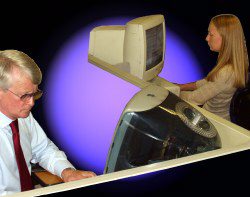 Throughout the life of a building, from conception to occupation, and beyond, on-line tools provide scope for collaboration in a way that has not been possible before. GAVIN DALE explains.Computer software developments have brought major enhancements over recent years in the management of buildings — from construction through to day-to-day operation and maintenance. Innovations developed to help control building specification and construction now offer the potential for still greater efficiencies in the exchange of information between different organisations throughout the entire life cycle of a property.
Origins
Most computerised collaboration tools can trace their origins back to manufacturing, which initially led the drive to reduce transaction costs and increase purchasing power with suppliers. Significantly, this even saw competing companies working together to bulk buy supplies. For example, different motor manufacturers buy particular components in syndicates to benefit from larger discounts, even though they compete fiercely for sales of their finished vehicles. As manufacturers progressively derived benefit from using these tools, general construction clients began to expect a similar approach from their consultants, prompting companies like Faithful & Gould, which advises on a broad range of construction related projects in the property, transport and industry sectors, to develop its own collaboration systems.
Close relationship
Construction projects, particularly major schemes such as those increasingly developed under PFI and PPP arrangements, call for a close working relationship between a number of companies. That relationship may last for 25, 30 years or more. The need for joined-up thinking is apparent. Similarly, the work of Egan and Latham points to the very real benefits of setting aside the traditional 'confrontational' approach to contracts in favour of more cost-effective partnerships. On-line collaboration tools provide a key means of turning such principles into day-to-day practice. In simple terms, most such programs operate by creating a central data resource which can readily be accessed by all relevant parties. Whilst it is possible to buy complete systems, users increasingly rent space or 'data rooms' to store information for the duration of a project.
Versatility
The best of these systems offer tremendous versatility in configuration, so they can meet the needs of a remarkably diverse range of developments. They enable multiple users to access and modify documents and make it simple to track changes and notify interested parties when adjustments are made. The key is making it possible to work on this data irrespective of the hardware/software configurations of participants. For example, it is possible to view and annotate CAD drawings without having CAD software; the only 'entry requirement' is a Web browser. It follows that there is no lengthy learning curve involved. Faithful & Gould's collaboration tool, i PRONET, calls only for about an hour's familiarisation before users can navigate and work on the system.
Invaluable
In the pre-construction and construction phases, such systems are invaluable. They enable commissioning organisations to work with their consultants in developing specification documents and facilitate easy access to key data for bidders. They also allow bid teams (which now typically involve several companies working together) to prepare their submissions in a highly efficient manner, without the need constantly to e-mail different draughts back and forth — with all the attendant tracking issues. During a build or refurbishment programme they subsequently make it simple to distribute drawings and design modifications, track progress and record changes. Such systems have become progressively more sophisticated over the last decade and have certainly been in common use over the last five years for major construction projects, involving different designers, contractors and service providers working together efficiently.
Collaboration
An important emerging trend is the extension of this collaboration well beyond the construction phase and into day-to-day building operation. A key focus is on project and cost management consultancy and i PRONET was developed as an integral part of this service. However, it is increasingly finding that clients wish to retain their databases beyond the build programme, thereby providing a means of tracking every aspect of a property from 'cradle to grave'. The potential for using such systems to help manage large individual buildings or complete property portfolios is clear. They can serve as the depository for a listing of all maintained assets, record maintenance procedures, log faults, issue notifications for action, and even automatically raise orders for replacements of parts taken from stock to effect repairs. The opportunity to reduce costs — and the risk of a £5 replacement part costing 10 times that amount in associated administration — is considerable. All this may seem like some form of Utopia, but the truth is that today's systems offer the sophistication, versatility and ease of use to turn the idea into reality for many types of property and across a broad range of building related disciplines and services.
Gavin Dale is with Faithful & Gould, a member of the WS Atkins Group of companies, Woodcote Grove, Ashley Road, Epsom, Surrey KT18 5PW.
Related links:
Related articles: