Makeovers that renew

Maintaining and updating air-handling units can add years to their life and improve their energy efficiency. Andrew Knight explains. The building services engineer's working life can be viewed as splitting into three parts. First, they must decide — or help somebody else to decide — which systems should be installed in a building. Then, they have to install and commission these correctly, or ensure that a third party does so. Finally, comprising the bulk of their activities, they have to keep everything working. Nothing lasts forever, so when building-services plant is installed, there is one certainty: without planned maintenance, eventually, it will stop working. This should rarely happen unexpectedly, as it is typical for warning signs to appear for those who can read them. As plant ages, it tends to degrade gradually in both performance and efficiency. Without maintenance or planned overhaul works, it will fail. Every building-services system is there for a reason, so the mildest consequence of a failed system will be discomfort or inconvenience for the building occupants. More seriously, it can mean downtime for part or all of the organisation — commonly costing thousands of pounds daily. In the financial sector, complete operational downtime can lose a firm thousands of pounds per minute. Most such losses are avoidable. More importantly, the measures implemented to prevent such failures can pay for themselves relatively quickly through retarding the rate of plant deterioration and extending system life. It takes comparatively little planned maintenance, in conjunction with strategic upgrade or overhaul works, to extend the working life of plant by up to 20 years. In many instances, payback periods for upgrade and refurbishment can be further shortened through the use of new energy-efficient components. The starting point for extending system life is a comprehensive assessment of long-installed plant by specialists — using the latest tools and techniques — to predict its life expectancy. It should not be surprising if modern analysis means that the findings do not tally with original pre-commissioning predic­tions. As an example, a full on-site condition-based assessment can be made of HVAC systems by experts using sophisticated equipment to produce vibration spectra and thermal images of fans and motors. This can enable a better understanding of where maintenance is needed, or where potential defects lie, well before either situation can result in a failure. Used alongside more traditional on-site inspection and reporting, it allows the scheduling of necessary future work. Such work can bring enormous benefits. Even something as simple as a regular planned filter change can deliver an improvement in the performance of up to 50%. At the other end of the scale, a complete upgrade of fan motors, with inverter drives introduced for motor control, can increase plant efficiency while lowering an organisation's carbon footprint and running cost. Building owners may need updating on the need for good filtration. Protecting high-cost bag filters properly, alongside regular maintenance checks of panel filters, means that both intervals between changes and the chance of air bypassing filters can be improved. The result is a cleaner working environment, lower material and maintenance costs and decreased energy consumption by the AHU. In the long term, this brings increased life expectancy for all items of plant downstream of the filters — including fans, motors, coils and thermal wheels.

This illustrates an important point in extending plant life. The work should focus on components subject to the most wear. Upgrade costs can be reduced by selective replacement or refurbishment of crucial system elements, giving a significant return on investment. When introducing intelligent fan-speed control, for example, the financial incentives of the Enhanced Capital Allowances scheme mean that inverter drive projects can offer payback within as little as a few months. It is typical that 15 years of operation with relatively minimal maintenance can leave the AHU case and structure in good order, but with fans, motors, coils or other components needing replacement, overhaul or upgrade. Access restrictions sometimes make it impossible to remove and replace old AHUs, with the only option being a carefully planned upgrade. With failing cooling coils, for example, that have rotted, clogged or are leaking, one answer is to replace them with coils built within the AHU itself from new components. In a recent case in London, a rooftop AHU was inaccessible by crane, with access only possible via lifts and stairs. The Fläkt Woods solution was to build large cooling coils in flat-pack kit form and take them to the roof as finned tubes to be set in place and brazed inside the AHU. A new case was built around the assembly and leak-tested. The upgrade team also manufactured new thermal wheels in quadrants, and a de-mountable frame, for transport to the roof and assembly inside the AHU. The result is a calculated extension of the AHU's life of 15 to 20 years. This project typifies the benefits available from expert plant analysis and consideration of solutions which go beyond routine maintenance of existing systems. The key point illustrated is that achieving optimum results requires both specific expertise and specialist analytical equipment, as used by Fläkt Woods technical site services. Their experts regularly conduct analyses using state-of-the-art systems before, for example removing and replacing old coils as necessary. A significant benefit of working with a specialist is that no assumptions are made. A dedicated project manager is assigned from an initial enquiry onwards and works with the customer to determine how best to extend plant life. Needs are assessed and prioritised, and all options considered. These could include repair, maintenance, cleaning or, if required, an upgrade with the latest energy-saving equipment. Significant extension of plant life can often be achieved by modest investment, for benefits in lower running cost, a cleaner environment and reduced risk of future plant failure.
James Griffiths, UK marketing co-ordinator with Fläkt Woods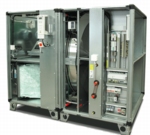 Related links:
Related articles: