How managing voltage reduces electricity bills
The nature of the UK electricity supply means that much electrical equipment is served by a higher voltage than it is designed for — wasting energy and shortening its life. Angus Robertson explains how voltage power optimisation addresses these problems.Following European harmonisation in 1995, the declared electricity supply in the UK became 230 V nominal, +10% to -6%. The supply voltage can therefore be anywhere between 216 and 253 V, depending on local conditions. Most electrical equipment, designed to work for the whole European market, has an optimum operating level of 220 V, as this was the nominal supply prior to 1995. Yet, in practice over 90% of sites in the UK continue to receive voltage at the historic average level of 242 V — and will continue to do so because of the design of the infrastructure. The macro infrastructure of the grid cannot be changed, and the physics of 'volt drop' does not allow the utility companies to tap down their HV transformers and micro-manage supply levels to their customers. For this reason, equipment is routinely supplied at over 20 V higher than its (near) optimum supply level, wasting huge amounts of energy. Voltage power optimisation (VPO) overcomes this problem by ensuring that all the electrical equipment on a site delivers close to its rated power, without the waste that over-voltage causes, and it is surprisingly easy to fit. VPO technology is now being installed on both LV supplies (415 V) and at larger sites where HV is supplied (11 kV) and transformed to LV. However, simply reducing voltage with an HV tap down (if you own your HV/LV transformer) does not have the same effect and simply wastes an opportunity. Indeed, some companies (Tesco Ireland, Hilton Hotels) are actually tapping up their HV transformers and carrying out a larger step-down with a VPO unit, as this approach makes for a more efficient supply and increases savings. VPO has remarkably low losses of 0.1% throughout its operating range, so it generates little heat, unlike a conventional transformer. The reasons for this are in its innovative design and construction, which avoid the dual-wound configuration of a voltage transformer. The supply voltage to the building is optimised through a compound magnetic interaction, which integrates the ability to simultaneously correct and improve the power quality to an entire site. Suppressing the harmonics and improving the balance of the 3-phase voltage supply allows equipment to run closer to its optimum operation level, thereby reducing losses and consumption in 3-phase equipment such as air conditioning, ventilation, refrigeration equipment and pumps. A motor with a 5% imbalance in 3-phase supply will draw about 20% more power. It is worth mentioning that a 230 V rated bulb supplied with 240 V will achieve only 55% of its expected life. VPO can therefore reduce capital spend on equipment as well as maintenance costs. The power supply in the UK is not as clean and pure as we would like, and is also deteriorating as the increasing use of small-scale generating plants, including wind generation, gives rise to more switching on the grid — and hence more harmful transients. (Transients are short-term high voltage spikes that can damage electronics.) VPO technology can buffer and eliminate spikes up to 25 kV. Harmonic distortion from nonlinear loads is also reducing power quality as more IT equipment comes online. To combat this, the Government introduced the G5/4 guidelines in 2003 that require both utility companies and customers to limit their harmonic outputs. By filtering harmful harmonics from the supply, VPO can protect sensitive equipment and provide it with a clean power supply. VPO is effective for almost any site with an electrical load, and organisations of all sizes and types have installed the technology. Sites include major supermarkets, banks, MOD, Metropolitan Police and the Tower of London.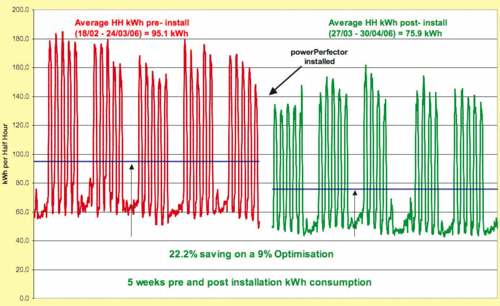 Early adopters include printers such as Buxton Press, which noted reduced noise levels on their print floor by optimising their supply, as well as reducing their electricity bills by over 13%. Land Registry (the largest property database in the UK) and over 40 councils and local authorities have been selecting the technology for offices, town halls, leisure centres, schools and civic buildings of all kinds, in their commitment to reduce their carbon emissions and costs. As an example, Wycombe County Council has proven savings of 22% after installing the technology (Fig. 1), although the average saving is 13 to 14% over all sites. The largest (2 MVA) VPO unit in the UK has been installed at Trelleborg IAVS, a manufacturer of automotive parts in Leicester, demonstrating the technology's application in heavy manufacturing, with savings of over 12%. As the Government body responsible for environmental matters, the decision by DEFRA to roll-out VPO technology across its sites around the UK is hugely significant. Anita Collier Head of Built Environment Sustainability Team Estates Division with Defra Estates, says, 'We are delighted with the savings delivered (more than150 000 kWh and over 17 000 kg of carbon from the first five units) and are planning to accelerate installation of powerPerfector throughout our estate.' Sine it arrived in the UK five years ago, this single technology has saved over 150 GWh, 78 000 t of carbon emissions and over £10 million pounds for UK clients, simply by allowing electrical equipment to work at much higher efficiency after the power supply to the buildings has been optimised. The value of this technology has also been recognised by British Energy, the largest supplier of energy to the UK's industrial and commercial sector, which is introducing the technology to customers as part of its energy services solutions.
Angus Robertson is CEO of powerPerfector.
Related links:
Related articles: