Software for sizing DHW includes LZC options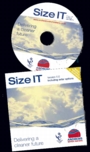 Andrews Water Heaters has updated its Size IT sizing program for DHW systems to reflect new developments in the industry and the latest products and solutions from the company.
For the first time, low/zero-carbon technologies are included.
The LZC section includes the fundamental principles of how to size a solar-thermal system, taking into account basic load and solar fractions, with a choice of flat-plate or evacuated-tube collectors. Three different options can be trialled on screen.
Many changes have been made in the presentation of Size IT to improve its usability. The program is now compatible with Windows Vista. It has a larger screen size and an updated 'install program' that is easier and faster to use.
For more information on this story, click here:
July 09, 150
Related links:
Related articles: