Rejected heat generates domestic hot water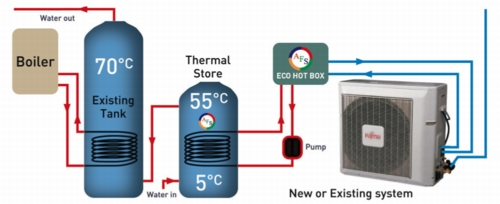 All Four Seasons, which specialises in air conditioning and heat pumps, has devised an approach to producing domestic hot water by utilising heat that would otherwise be rejected by air-conditioning systems. Called Eco Hot Box, the system can be retrofitted to many existing systems — including splits and VRF systems. The system is claimed to pay for itself in the first year of operation and provide cost-free hot water thereafter.
The system consists of a thermal store, Eco Hot Box and circulation pump connected to an outdoor unit.
The Eco Hot Box was originally designed to enhance R22 gas replacement activity to include heat recovery and therefore provide pre-heated hot water for business. When combined with Carbon Trust's ECA-approved energy-efficient cooling or heating systems, the Eco Hot Box is a very tax-efficient option.
For more information on this story, click here:
May 10, 81
Related links:
Related articles: