The intelligent approach to mixing energy sources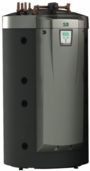 CTC's EcoZenith intelligent multi-energy tank is designed for commercial and domestic properties with wet heating systems. Its built-in intelligent control unit selects the most economical heat source. The controls use specially adapted software for the integration of heat pumps, solar panels, biomass boilers and other heat sources. The controls can operate up to three heating zones with different flow temperatures. Weather compensation is also incorporated.
These units have a primary hot-water capacity of over 500 l. A bivalent mixing valve delivers an even temperature and responds to inputs from exterior and interior sensors. The EcoZenith tank is divided into two sections separated by an insulated baffle. The sections are connected by heat distributors, optimising performance when solar is used.
Domestic hot water is generated using two copper coils to transfer heat. Water is preheated in the unit's lower section and then raised to the required temperature in the upper section. The secondary DHW coil has a low internal volume, resulting in a high flow rate to prevent growth of bacteria.
The facility for a secondary DHW return prevents system deadlegs. An electric immersion heater can be brought on in stages.
The 90 mm polyurethane foam insulation jacket can be removed to enable the tank to be manoeuvred through a standard doorway.
Related links:
Related articles: