Thermal storage for renewable energy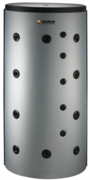 To make the best use of a biomass installation, Euroheat offers a wide range of accumulators. These vessels are available as standard in sizes from 300 to 5000 l and up to 10 000 litres as a tailor-made tank. Connections are provided for a variety of heat inputs and outputs to the heating system. Solar systems can be incorporated via single or dual internal coil.
The Beta models (600 to 2000 l) can provide instantaneous DHW through the large, 4-pass, stainless-steel heat exchanger in the upper part of the vessel.
Stratification of the water in the vessel is maintained by plates and flow defectors, so that the highest possible water temperature is offered to the heat exchanger. Beta versions can have a single or double solar coil.
All Euroheat vessels are fitted with tailored soft polyurethane insulation (thermal coefficient 0.039 W/mK), protected with a coloured PVC cover. The welded steel construction is certified to EN12897 and comes with a 3-year warranty.
Related links:
Related articles: