A whole-building approach to space heating

A heating system that is not specifically designed for the characteristics and requirements of the building is unlikely to be effective and efficient. Frank Staniland explores the issues involved and some solutions.
Global warming, carbon reduction and energy efficiency remain major buzzwords of present times. Couple these concerns with stringent legislation and companies are faced with a major challenge when it comes to providing a comfortable environment for employees whilst meeting increasing green targets and keeping costs down.
Member companies of the ICOM Energy Association continue to play their part, however, in this drive for energy and cost efficiency. It is simply not enough to install a few radiant or warm-air heaters, for example, in a building and think 'job done'. Our collective duty to ensure whole-building efficiency runs much more deeply than that.
The integration of heating and ventilation systems within commercial and industrial buildings is necessary to create a comfortable temperature and environment. However, the systems installed in such buildings should be selected to best reflect their purpose and intended use.
What is the building currently being used for? How many air changes per hour are required? Are doors constantly open? What type of heating system is best suited to the application?
Undoubtedly a warehouse will have different requirements to an office. Even within a warehouse there may be specific requirements, such as spot heat at workbenches or maintenance areas. Moreover, the heating in such areas may only be required at specific times of the day while the area is being used.
The above comments clearly highlight the necessity to have proper controls in place, which will provide the correct level of comfort and at the right time. Building Regulations since 2006 and the more recent 2010 revision of approved documents recognise these facts and give additional points towards heating system efficiency, if due cognisance has been taken of intended use and proper controls are included.
Does the system design meet the latest requirements of Part L of the Building Regulations which came into force on 1st October of this year? Is the equipment specified listed on the Carbon Trust's Energy Technology List (ETL), which could qualify the system for the Enhanced Capital Allowance (ECA) scheme?
ECAs encourage the specification of energy-efficient equipment by enabling a business to claim 100% first-year capital allowances on their spending on ETL listed heating appliances. This means that the full cost of an investment in plant and machinery, including the cost of installation, may be written off against the taxable profits of the period in which the investment is made. For comparison, the general rate of capital allowances for spending on plant and machinery is 20% a year on a reducing-balance basis.
Another important consideration is the 'Merton rule' —a ground-breaking planning policy developed by Merton Council in 2003 and which stipulates that all new non-residential developments above a threshold of 1000 m2 must incorporate equipment to produce renewable energy to provide at least 10% of predicted energy requirements. Some local authorities have now gone beyond this requirement and stipulate a higher percentage of renewables.
ICOM members are currently investing significantly in research and development to push the boundaries of existing heating systems and to develop new technologies that assist industry and safeguard the planet by reducing fossil fuel usage and therefore costs.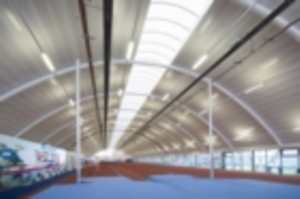 The smart money then, is being spent with companies that provide a bespoke heating solution to address all these factors — firms that conduct a comprehensive survey of the building, ensuring that the precise requirements of the building and its occupants are met by an energy- and cost-efficient solution that satisfies the needs of both the client and legislation.
New high-efficiency and renewable-heating technologies such as condensing and biomass-fired war-air heaters, high-efficiency radiant heaters and also transpired-solar collector systems are also playing a huge part in our common goal.
SolarWall* transpired solar collectors (TSC), for example, are a globally proven technology which makes use of even modest solar gain and adds the solar-warmed air to the air-heating system. This is yet another example of where sustainable technologies are teamed with systems based on fossil fuels. They are recognised as an excellent choice for architects, specifiers and building owners seeking the most cost-effective way to comply with demanding Building Regulations for heating.
We at AmbiRad, like many others, have been collaborating with renewables suppliers on a worldwide basis to ensure that our portfolio of products is able to provide a 'one-stop' solution for our clients. We recognise that when discussing a project with an architect or building designer, they want a 'total solution' for their heating and cooling requirements across the whole of the building to ensure they meet the requirements of all the various regulations, including the Energy Performance Building Directive (EPBD.'
The next big test for radiant and warm-air heating manufacturers will be to comply with the Ecodesign (Energy Related Products) Directive, which will encompass further demands for increased efficiency and continued reductions in atmospheric emissions.
This work is currently at the initial preparatory study stage, and ICOM member companies are already involved as stakeholders in the industry.
The aim of ICOM is to demonstrate to the consultants running the EU project, that we are already well on the way to meeting future levels through the utilisation of harmonised standards and agreed technical specifications throughout Europe.
Frank Staniland is a council member of the ICOM Energy Association and sales director of the AmbiRad Group.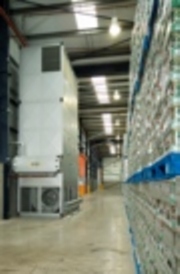 Related links:
Related articles: