Time to acquire solar flair
Despite drastic cuts in the Feed-in Tariff, Andrew Lee sees huge opportunities for Solar-PV in the UK
Only a few days short of its first anniversary, the UK Government dramatically cut the Feed-in Tariff (FiT) rates for solar photo-voltaic (PV) projects over 50 kW. Whilst potentially damaging to an industry beginning to thrive, the opportunity for the domestic installation market remains as strong as ever.
It only took 352 days for the self-proclaimed greenest Government to go back on its commitment to building a low-carbon Britain. Introduced in April 2010, the FiT scheme enabled the country's solar and renewable energy industry to grow substantially by providing incentive payments for the amount of electricity produced, additional bonuses for power exported into the grid and a reduction on standard electricity bills.
Aimed at households, schools, hospitals and various businesses, the tariffs were introduced to help increase the level of renewable energy in the UK. However, on 18 March, Energy Minister Greg Barker proposed that from 1 August, solar installations from 50 to 150 kW would see a 42% cut to 19 p/kWh, medium-sized solar installations of 100 kW could see incentives cut by more than 40%, while large renewable projects could see subsidies slashed by more than 70%.
Over the last year, the FiT has been a great success and has stimulated green growth, driven technological innovation, cut tonnes of carbon-dioxide emissions and created many new jobs.
Although it is difficult to gain an exact figure for the number of employees in the UK's PV industry, the FiT has boosted numbers dramatically, with a recent survey indicating an increase of around 230% between 2009 and 2010 (pre- and post-FiT). Since the FiT was introduced, solar power has been the driving force — accounting for 93% of registered installations. According to Ofgem, there have been more than 11 000 renewable-energy projects, the vast majority of which are solar-PV panels; between April 2010 and March this year, there were 24 744 total installations registered to participate in the FiT.
In a period of rising unemployment and economic uncertainty the UK PV industry was bucking the trend. In addition to the top-line benefits, jobs were being created in management, sales, advice and other technical-support areas, while re-training possibilities were offering legions of installers and servicing personnel opportunities to benefit from this new industry.
There is no doubt that the cuts will affect the growth in jobs across the PV industry. However, the domestic installation market in the UK remains very healthy and continues to represent a fantastic opportunity for professional installers. There are a number of very good reasons to remain optimistic.
There is no denying that incentives for solar and renewable energy will remain fundamental to the long-term direction the UK for both economic and ecological reasons. The UK has given itself 29 years (until 2050) to reduce carbon emissions by 80%. Rising oil prices have brought into focus the need for reliable energy supplies and a mix of low-carbon energy to protect ourselves from volatile fossil-fuel markets and disruption to supplies from unrest abroad. PV is undoubtedly integral to this.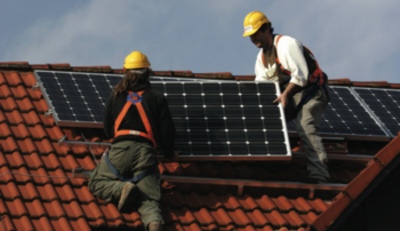 As these fuel prices continue to rise, UK homeowners are hungry for ways to reduce their bills and have shown quite an appetite for solar technology. Research has shown that 56% of homeowners would install solar panels on their home, and the UK market for installing solar panels is expected to be worth £500 million a year by 2015. For electricians, roofers, building contractors and anybody wishing to develop an understanding of this sector, this provides a very real incentive to learn comprehensive, high-quality solar-installation skills.
The growing demand of those looking for an opportunity to capitalise on this potential, has led to a series of renewable-energy academies, installer schools and academic courses springing up throughout the UK. In partnership with Cleaner Air Solutions, we recently opened a renewable-energy academy to train 25 to 50 people a month, and it is already providing many with the skills they need to be a success in this industry.
An average-sized £15 000 solar installation typically earns the installer around £3500, so the training usually pays for itself with a single installation. Striving for the highest installation standards in the UK is the key to building consumer confidence. Our research shows the vast majority of homeowners (86%) would only trust an accredited solar installer to fit their solar panels.
As the UK's largest manufacturer of solar module manufacturer, Sharp is planning to remain a cornerstone of the UK's renewable energy industry for years to come. Our factory in Wrexham, North Wales, is working 24/7 to serve the whole of Europe. We recently announced the creation of 300 new jobs, which has almost doubled annual production capacity, from 5000 to 8000 panels per day, representing 500 MW per year — enough to power over 170 000 homes in the UK.
The FiT has been an unprecedented success for businesses, industry and consumers. The figures speak for themselves — the FiT kick-started industry growth, created jobs in the private sector, and laid foundations for a future decarbonised grid. Whilst the cuts are completely counter-intuitive we must not take our eye off the end-game. For the UK to have any chance of meeting the targets of carbon reduction set-out by the EU, solar will have a prominent role to play and this is going to be driven by skilled professionals with foresight. We must be unswerving in our commitment to building the UK green economy to rival the world leaders, and the UK domestic installation market is the opportunity that stands out. Now is not the time to lose faith in the FiT. It is essential that the political debate does not overshadow what has been a hugely successful year, and the forecast for professional installers in the UK remains sunny.
Andrew Lee is international sales manager for Sharp Solar.
Related links:
Related articles: