Where there's smoke there should be integration
The smoke-control systems required by legislation for multi-storey buildings can be integrated into a building-management system to save money and, potentially, lives. Allan Meek explains.
Multi-storey buildings usually have escape routes via corridors or stairwells. In the event of a fire, smoke can be the biggest threat as it spreads quickly in a short space of time, making it difficult for occupants to escape and for fire fighters to gain safe access.
For this reason, legislation provided in Approved Document B 2006 generally requires buildings with three or more floors to have smoke-control solutions to protect escape routes from becoming smoke logged. Furthermore buildings with floors over 18 m in height should also incorporate a fire-fighting shaft which is protected from smoke to provide clear access for fire and rescue services.
Different approaches to smoke control include mechanical extract, natural ventilation and pressurisation. Systems can include a wide range of diverse components for example, extract fans, dampers, smoke curtains and ventilators.
Controls for such systems can be sophisticated, with complex control logic being applied to achieve the right cause and effect strategies. These systems often incorporate air-pressure sensors, smoke detectors, and, for the ventilation of car-parks, monitoring of poisonous carbon-monoxide.
Programmable logic controllers are often employed to achieve the correct operating conditions, and control outstations communicate via a data network using an open or closed protocol. A human/machine interface (HMI) can be employed as the central control and monitoring point for maintenance and fire-fighting personnel, and it can graphically display important information on the conditions within the building and the status of the system.
Smoke-control provision does not work in isolation but is usually one element of a fire-protection strategy. It has to interface with other elements of the wider building-services installation — typically fire alarms, smoke detection, sprinklers, access control, public address and BMS.
Each discipline also has its own, often complex, control system with a separate data network, prohibiting direct communication. When services are designed in isolation and each specialist uses its own preferred communication platform, a closed protocol is created — causing problems, for example, with the fire alarm communicating effectively with smoke-control systems.
Interface gateways can be used to correct such problems and allow various systems to talk to each other. However, this can be costly, and there remain limitations as to how well the different services work together. When interfacing between two or more elements is required, it is typically achieved using volt-free contacts in the relevant control stations. Such interfacing requires close co-ordination between the different providers and can lead to problems during commissioning if not carried out thoroughly.
The final solution can be confusing for end users and fire fighters, with several control panels located adjacent to one another, each displaying information on one aspect of the overall fire-protection measures.
The different elements of a BMS package are commonly developed in isolation, which causes communication issues when the systems are all connected at the conclusion of a project. The nature of this type of segregated installation requires each package to have its own associated hardware to make it function. The duplication of materials creates waste; as a result, the overall system is more expensive.
A fully integrated network system, based on open BMS protocols, enables a flexible approach by making information available to all parts of the system. Feedback loops can be easily created, leading to enhanced performance, reduced operating costs and a more user-friendly system.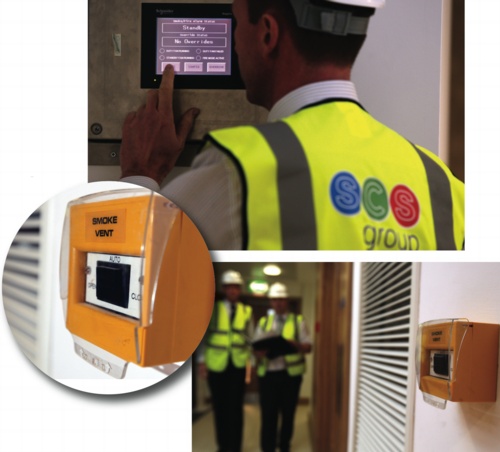 Additionally, integrated control systems reduce the burden on the fire brigade. The HMI can present visual information that is easy to understand — including, theoretically, live video of the fire area. The system can also identify where people are located in a building, enabling the fire brigade to manage emergency situations more effectively.
An integrated system with one access point not only benefits the fire brigade but also gives users complete control over building services from one location. The single point of control makes monitoring and fault diagnosis simpler and reduces maintenance costs.
The maintenance of individual systems by separate contractors results in higher costs by requiring different contractors to attend site to carry out a small amount of work on each service.
This problem can be removed where a system is combined onto a single platform and responsibility for maintenance given to one contractor. Fewer site visits are required for maintenance and corrective work, which in turn lowers costs.
If integrating all services into one system creates a more efficient building that is more cost effective, why aren't all building management systems commissioned and designed in this way?
The reality is that contractors and engineers generally specialise in one field, such as smoke control or air conditioning, so mechanical and electrical services are often designed and installed by separate specialists in isolation. This means communication and integration between the different services is minimal.
Collaboration is not encouraged because contractors are keen to maintain an edge over competitors, and there is no incentive to share information that could create a better overall output and generate safer conditions for a building's occupants and the fire service.
Additionally, the design and engineering of fire-safety systems is a complex area that should only be undertaken by trained and accredited specialists. If the industry is to make forward strides in value engineering, individual providers need to embrace true collaboration. Only then can we be in a position to provide the buildings of the future with the best possible management solutions and safety conditions.
Allan Meek is managing director of SCS Group, a leading provider of building management, smoke control solutions and ventilation.
Related links:
Related articles: