CPD on fan-convector heating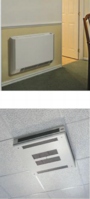 A CPD presentation on fan convector heating by Smith's Environment Products explains the principles of forced convection heaters and their benefits as an alternative to radiators and boiler systems. It is approved by the Construction CPD Services and available for presentation in person or online.
The presentation compares system efficiency and energy savings and examines what can be achieved with low-temperature systems using ground- or air-source heat pumps. Specific reference is made to SAP calculations, Building Regulations and practical implications affecting designers and facilities managers.
Related links:
Related articles: