Hamworthy claims smallest boiler footprint on market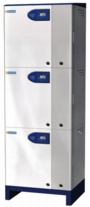 Hamworthy Heating's Fleet range of floorstanding condensing boilers is said to have a higher output and smaller footprint than any other boiler on the market. These vertical boilers occupy less than a square metre of floor space to deliver an output of 1050 kW using three modules. There are 26 models with compact modules that can be arranged two or three high to deliver 80 to 1050 kW.
At the heart of each boiler is Hamworthy's new sectional heat exchanger of robust aluminium-alloy castings and suitable for up to 6 bar working pressure.
All models have available optional frame sets and pipe kits below the boilers. There is a choice of concentric or twin-duct sealed flue, or open flue header systems for multiple boilers.
Related links:
Related articles: