From site to factory — and back again

Balfour Beatty Engineering Services has boosted its capabilities in off-site manufacture with the opening of a new facility at Wednesbury.
The inside of a modern factory is a model of efficient organisation and production, with comprehensive checking of progress and quality. There is space for the work to be carried out, the right tools are readily at hand, and components are immediately available. Compare that ideal scenario with the conditions on a construction site that are the day-to-day working environment of an M&E contractor.
Productivity in a factory is vastly superior to productivity on site, and engineering modules assembled in a factory can be very quickly installed on site. The savings in manpower and time are enormous, as indicated by John Moore, managing director of Balfour Beatty Engineering Services at the recent formal opening of the company's new 11 000 m2 manufacturing and assembly facility at Wednesbury in the West Midlands.
Referring to the M&E services contract for Airbus at Broughton in north Wales, for which off-site fabrication and lean-construction processes were extensively applied, John Moore explains that there were only 30 people on site, supported by six people in a factory. The normal requirement for a project of this scale and complexity would be 110 people on site at the peak of activity. The Broughton factory makes wings for Airbus aeroplanes.
The Airbus project also includes a plant room that was constructed in seven modular sections delivered to site and installed in just two days, with a further three weeks required to integrate it with site services. The trad­itional approach would have required six to seven weeks on site. The complete 250 m2 plant room weighed over 100 t.
The Airbus project includes a biomass boiler that meets 40% of the heat requirement, a solar-thermal installation to supply 30% of the DHW requirement and three 6 x 7 m arrays of solar PV.
Off-site manufacture also makes possible huge reductions in programme time. Other projects which BBES has been involved include Birmingham Hospital, which was completed 12 months earlier with the help of off-site manufacture, and six months being taken out of the programme time for Featherstone Prison at nearby Wolverhampton.
Compared with another prison project where risers took over three months to install, those for Featherstone prison were assembled in the factory and installed on site in just a week. 60 risers for this project were produced in the factory in just one day.
This new prison comprises three house blocks, each with 480 places, and 13 ancillary buildings.
Before the opening of the Modular Systems + facility at Wednesbury, BBES built M&E modules in five separate factories, none of them ideal. Its new facility is claimed to be the largest of its kind in the UK and has the capability of building packaged plant rooms, corridor modules, service modules, riser modules and modular electrical systems. The factory can produce and despatch plantroom modules with a cross-section of up to 4 m square and a length of 14 m — the largest that can be transported by road in Europe without a police escort.
Bob Francis, director of Modular Systems + at BBES, explains, 'The Modular Systems + facility has been built to enable us to deliver our lean construction philosophy, reducing the number of hours needed on site, improving lead times and providing safer and more productive working environments.'
The speed with which the new facility was fitted out and brought into operation is impressive. BBES received the keys on 20 December 2010, and production started on 4 February 2011. The business plan for the new facility was put forward early in 2010 and approved in May 2010. The search for suitable premises then began.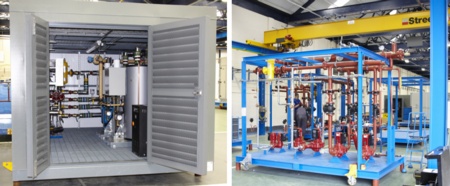 Compared with the previous five separate sites, the new facility has the capability of doubling turnover from 40% less space, according to Bob Francis. And that output could be trebled with three shifts and more people.
And it is not just speed and efficiency that can be achieved in the factory compared with a site. The factory provides operatives with safer and more productive working conditions and is a considerable asset to BBES's zero-harm policy. Waste is also minimised, contributing to the company's position as promoting sustainability as a collective and inclusive responsibility working with customers, suppliers and communities to ensure that sustainability is embedded into every operation.
Quality control is something that can be achieved in a factory to an extent that cannot even be contemplated on site. The operative who performed a particular task can be recorded, along with date and time, for subsequent resolution of production problems. Even crimps for pipe connections can be traced back to an individual, but monitoring shows that of some 1.8 million crimps in three years, only a handful leaked — and that was in the first few weeks of starting to use them.
Pipes and ducts can be lagged in the factory, saving huge costs on site.
But it is out on site that the massive benefits of off-site manufacture manifest themselves. One example is the £230 million M&E contract for Birmingham Hospital, which involved over 800 km of cable, flexible containment and connector assemblies. Prefabrication enabled BBES to deliver phases of the installation for the 137 000 m2 hospital some 12 months ahead of schedule and save 265 000 hours on on-site labour.
The Birmingham project involved the design and building of over 600 shower and WC pods to be installed throughout the hospital. Using a quick, simple and repetitive installation process, the units were assembled off-site to eliminate the need for hot works on site and save 6800 hours.
An innovative module wall system involved over 300 ward wall modules delivered to site, all with integrated services as part of the overall design. The complete wall panels include electrical accessories, medical gases, nurse call and lighting, with all electrical and mechanical services built in. The panels have a vinyl coating with anti-microbial protection and did not require any further finishing on site.
The hospital was also supplied with off-site manufactured services risers, plant rooms, modular wiring and over 1800 modules supporting ductwork, pipe­work and cable containment.
BBES has particularly detailed figures for the benefits of off-site manufacture for the Birmingham Hospital projects. Working-at-height hours were reduced by 183 840 h, manual handling by 156 480 h and hot works by 112 220 h. Those figures represent a significant contribution to health-and-safety benefits — as well as saving time on site.
Maximising the benefits of off-site manufacture does require a different approach to projects — with partnering right at the start between BBES as M&E contractor, Modular Systems + as the factory, architect, consultant and client. Given that level of commitment and collaboration, offsite manufacture can, as Bob Francis puts it, 'transform a project completely in many cases'.
Related links:
Related articles: