Delivering the energy savings
Why are so many building-management systems inadequate — perhaps 90%. Catherine Kidd has the answers.
Building-management systems are often hailed by organisations such as the Carbon Trust as key to increasing commercial energy efficiency, stating that a well controlled commercial building can be over 30% more efficient than one with no controls. However, they also acknowledge that in reality about 90% of all building-control systems are inadequate — costing industry and commerce over £500 million a year in additional energy costs.
These costs are largely due to the fact that although more and more building-management systems are being installed into building developments, there is often no means of collecting, monitoring and targeting the data to analyse usage and ultimately reduce consumption and save money.
There is however a simple solution to ensure that the potential benefits of a BMS are not wasted — integrating energy management software. A software solution such as eSight allows organisations to use collected data to recognise high energy usage and set targets to reduce consumption and costs. eSight is hardware independent and can integrate with just about any building-management system by importing data via interfaces such as the Tridium Niagara Framework, Trend Supervisor, Honeywell Arena and Schneider PowerLogic, as well as directly from data loggers. This information can be automatically collected by the software at defined intervals, ensuring that up-to-date readings are available to users — readings that can be analysed and reacted to quickly if necessary.
The benefits of using energy management software are already being realised by large and small organisations across a range of sectors.
The exclusive residential complex at One Hyde Park, Central London which houses the world's most expensive apartment, has integrated eSight with the Tridium Niagara Framework. Property managers trained to use the system can monitor the energy usage of each apartment to produce accurate tenant billing, as well as monitor energy usage in communal areas to ensure that consumption does not exceed defined limits. Each apartment has meters installed for each utility, so that specific consumption can be accurately monitored and managed.
Carlsberg, the UK's fourth largest brewer, has monitored and targeted energy use to significantly reduce consumption and costs. Using a range of analysis techniques including per­formance, con­sumption and baseload analysis, as well as alarms and hourly-updating dashboards, Carlsberg reduced its site water consumption by 10%, effluent costs by 16% and overall energy consumption by 10%. These reductions translated into a very significant cost saving and a rapid return on investment.
Of course, a key factor in making any significant energy saving is getting staff, clients and customers involved in the cause. To achieve this, energy management software can provide features such as dashboards which display analysis graphs and alarms on one screen in a user-friendly format.
Non-energy users can also monitor savings in a format that is easy to relate to with tools such as an eZdash dashboard, which, for example, converts kWh savings into tangible facts such as the equivalent 'number of cars off the road'. This information can then be displayed in public areas, including receptions and lobbies, to promote successful energy management and encourage staff and visitors to participate.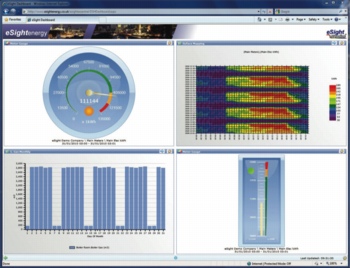 For larger companies with multiple sites, league tables are an effective way of encouraging staff to reduce energy consumption. The software can calculate how much energy each site has saved over a given period relative to the size and demands of that site, so that organisations can acknow­ledge high-achieving teams and promote some healthy competi­tion to reduce energy usage.
These features have been put to good use at the Ricoh Arena, Coventry, where a dashboard has been installed into the arena foyer, next to the ticket desk. This dashboard provides up-to-date information to visitors about energy savings, alongside news, weather and Twitter feeds and promotes how the Ricoh Arena is effectively managing energy and lowering its carbon footprint.
Successful organisations have proved that building-man­agement systems can hold the key to reducing energy consumption — but only if the data collected is monitored, analysed and targeted effectively.
Through an intuitive and user-friendly interface, energy-management software such as eSight allows users to perform that analysis and react to the findings to make savings almost immediately.
With more integration of energy-management systems alongside building-management systems, the Carbon Trust's claim that '90% of all building control systems are inadequate' will undoubtedly no longer apply.
Catherine Kidd is product marketing executive with eSight Energy.
Related links:
Related articles: