The challenges to indoor air quality

What are you up against when faced with providing good indoor air quality? Alan Macklin reviews the challenges.
Before the advent of the industrial era the combination of leaky buildings, low pollution levels and the use of natural materials resulted in an abundance of fresh air for building occupants. The massive explosion in population density, plethora of man-made materials and resultant worldwide shortage of energy is mirrored in an increased incidence of allergies, asthma and eczema correlating closely to the changes in the world around us.
To save energy, buildings are becoming increasingly airtight, which can lead to the undesirable effect of exposing occupants to chemicals from the fabrics and furnishings that characterise modern buildings.
This focus on energy saving is only set to increase, with the European Council having adopted ambitious energy and climate-change objectives for 2020. A consequence is that effective ventilation will become ever more important as we seek to ensure good indoor air quality in buildings which are more self-contained.
Implementation of the European Union energy objectives in the HEVAC sector is legislated by the Energy Performance of Buildings Directive and the Energy related Products Directive. The EPBD is applicable to fan systems through Parts F and L of the Building Regulations, which specifies minimum ventilation rates and specific fan powers. The ErP Directive focuses on improving energy efficiency of the fans, motors, air-handling units and related equipment.
With the average person spending 90% of their time indoors, ventilation is critical to prevent adverse health consequences. Inadequate ventilation leads to poor air quality — causing occupant discomfort, health problems and damage to the building fabric. Particularly vulnerable are the young, the old and people with existing respiratory and health problems.
There follows a summary of common factors affecting IAQ.
One is chemicals and volatile organic compounds, which are found in furnishings, man-made materials, adhesives, cleaners, pesticides and household products. Harmful effects vary from mild irritation to serious health problems, dependent on the length of exposure and the chemical concentration levels.
The potential impact of modern construction methods in occupant health terms is a point well illustrated in a statement within 'The Green Building Debate' report: 'Greater insulation, less ventilation, and a huge increase in new chemicals and products within new buildings, collectively induce chemical exposures and threats to health never previously experienced in human history.
This report provokes serious contemplation on the impact of the 90 000+ chemicals in commercial usage in the US and concludes with recommendations to identify hazardous chemicals in the built environment and to prevent dangerous exposures. The issues raised are pertinent to all developed countries.
Next is carbon monoxide from smoking and combustion appliances. Carbon-monoxide poisoning includes the symptoms of headaches, nausea, vomiting and fatigue. Exposure to an atmosphere containing 1% carbon monoxide for five minutes will result in losing consciousness, followed by death.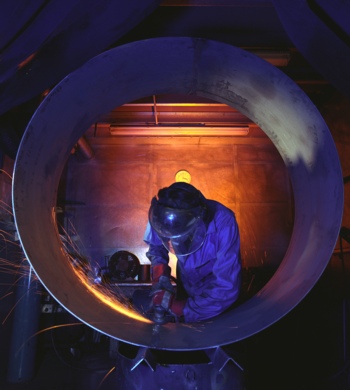 Small particles from smoke, tobacco smoke, fibres, dust and spores can cause problems varying from allergies to cancer.
Condensed moisture from cooking, washing and perspiring damages the building fabric and provides ideal conditions for mould growth and for dust mites to flourish when combined with warmth. Dust mites are found in bedding and carpets and cause asthma and allergic skin reactions.
Mould spores are present in the form of dust and trigger asthma, allergies and hay fever when inhaled.
Carbon dioxide is a product of human respiration and combustion, and odour is an indicator of poor air quality. Increased carbon-dioxide levels leads to lack of concentration, drowsiness and to occupants feeling uncomfortable. Increased CO2 levels are considered to be a reliable indicator that the ventilation rate has dropped below acceptable levels and that levels of occupancy-related contaminants are increasing. Increased CO2 levels are particularly relevant to reduced concentration for students and reduced productivity for office and factory workers.
Air temperature is a factor, too. As temperature increases above 24°C, concentration levels decrease rapidly, resulting in reduced productivity for workers and an increase in accident rates.
The solution to all the factors is well designed, installed and maintained ventilation systems delivering adequate levels of fresh air and extracting the stale contaminated air to ensure that adequate levels of IAQ can be maintained. It is essential to ensure that regular maintenance and cleaning of the HEVAC systems, including the air filters, is carried out.
Apart from the obvious health benefits, a well ventilated building will result in happier and more motivated occupants. In the workplace this will lead to higher productivity, lower levels of absenteeism and a more stable workforce. Elta Group produces a comprehensive range of fans, air-handling units, controls and ancillary equipment to facilitate the provision of clean, fresh and tempered air for the building-services, applied-technology and agricultural markets.
Alan Macklin is group technical manager at Elta Group
Related links:
Related articles: