R22 — the final countdown
R22 is still a mainstay for much of the installed base of air conditioning in the UK. However, with its phase-out gathering pace towards 2015, it pays to take action now. Marc Diaz offers guidance for planning your strategy.
Time is rapidly running out for R22. This venerable workhorse of the refrigeration and air-conditioning industry is finally being put out to pasture after years of faithful service. Building-services engineers need to remind their clients not to leave their replacement options to the last minute.
R22 remains a very common refrigerant in existing air-conditioning and process-engineering systems. Yet, R22 is an HCFC gas and is therefore subject to control under EU Regulation 2037/2000 on ozone-depleting substances. New equipment containing R22 has not been supplied now since the start of the year 2000.
In existing systems, the regulation has already banned the use of virgin R22 as a 'top-up' fluid in maintenance since 2010. Now comes the final nail in the coffin with a ban on the use of recycled fluid from 2015. This is of crucial importance for many companies and means that all users of R22 and other HCFC systems need to consider alternative refrigerants or the purchase of new equipment.
So what are the options as the deadline looms? The Institute of Refrigeration's Guidance Note 15 gives useful advice on the phase-out considerations.
• Age: An old system should be replaced, but young equipment might be suitable for modification to an alternative refrigerant. If a plant is already relatively old (e.g. more than 15 years) plant replacement is likely to be the best option.
• Performance: If the plant is known to be inefficient, unreliable or unsuited to the current and future cooling loads then plant replacement is likely to be the best option.
• Plant design: Some are not well suited to refrigerant replacement.
• Avoiding HFCs: Many HCFC alternatives are based on HFC refrigerants, usually a blend. Some companies might wish to avoid making investments in HFC equipment as these come under the F-Gas Regulations controlling leakage of gases with a global-warming potential. If your client wants to avoid HFCs by using refrigerants such as ammonia, hydrocarbons (HCs) or CO2, they will need to replace the existing plant.
When considering converting existing plant running on R22 to use a new refrigerant, the main options will be to use one of three categories of HFC refrigerant.
• A pure HFC fluid such as R134a.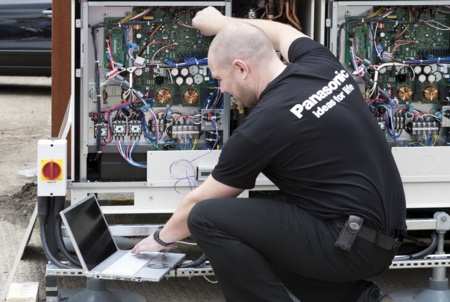 • An HFC blend that is often used in new systems, such as R407C or R404A.
• An HFC service blend, such as R410A, that has been specifically designed to be retrofitted into an existing R22 plant.
A significant issue is that most R22 systems operate with mineral lubricating oil, whilst many HFC refrigerants require polyol ester oil. It is time consuming and costly to change the oil in an existing system, but the service blends are designed to avoid or minimise this problem.
Another important consideration is the difference between use of a pure fluid or a blend. Existing R22 plant uses a pure fluid as the refrigerant. This means that evaporation and condensation take place at a constant temperature. Most HFC blends exhibit a characteristic called 'temperature glide' — which means that evaporation and condensation takes place across a range of temperatures instead of at constant temperature.
For some systems, a high temperature glide could cause problems, and it would be inadvisable to replace the R22 with a new refrigerant blend with a high glide. In general this problem occurs on flooded and pumped circulation systems — which tend to be used on large plants such as blast freezers, cold stores and large liquid chillers. There is less of a problem with DX (direct-expansion) systems; these can cope much better with a refrigerant with a temperature glide.
Several companies, including Panasonic Heating & Cooling Systems, offer a renewal solution which enables rapid conversion of existing R22 systems to new high-efficiency R410A systems at a dramatically reduced cost. By using existing refrigerant pipework to speed up installation and cut replacement costs, renewal costs can be brought down by around 30%.
The good news for anybody converting from R22 to R410A is the increased efficiencies from the replacement refrigerant. Typically, systems running on R410A offer a COP (coefficient of performance) of up to 4.56 compared with just 2.5 and below for older R22 systems. These higher COPs deliver significant ongoing savings in fuel costs for end users, helping to make the conversions pay for themselves.
R22 is still a mainstay for much of the installed base of air-conditioning in the UK. However, with the phase-out gathering pace towards 2015, it pays to take action now. Soon, there simply won't be enough R22 to go round, and the cost — where it is available — is likely to rise dramatically. Make sure your customers aren't caught out with unserviceable systems.
Marc Diaz is UK country manager for Panasonic Heating & Cooling Systems.
Related links:
Related articles: