Renewable DHW without the risk of legionella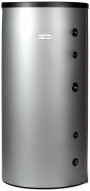 Lochinvar's HSV Thermal Store produces commercial hot-water supplies from renewable energy while also eliminating the risk of Legionnaires' Disease. This thermal store can combine up to three separate renewable-energy sources with a conventional boiler — and also occupies much less space than standard solar water systems.
The concept is that renewable energy is used to heat the thermal store. Incoming mains water passing through a stainless steel coil is preheated before being brought up to the required temperature by a suitable water heater.
If the thermal store is hot enough, it can be used to deliver small flows of instantaneous hot water.
Many traditional renewable pre-heat cylinders need regular pasteurisation as a precautionary measure to prevent the build-up of legionella — an energy-intensive process that is not required with the HSV.
One of the three energy sources could be a gas-fired boiler to ensure there is stored water at 70°C near the top of the store so that small volumes of water at 60 to 65°C can be delivered — such as might be required by washrooms in office buildings.
Six sizes are available with capacities from 500 to 2000 l.
Related links:
Related articles: