Simple locking system for consumer units protects electricians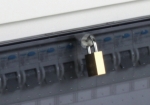 Hager has developed a simple solution for locking its consumer unit so that no-one can access devices while an electrician is working on a circuit. It was originally developed for Taylor Wimpey and Barratts for electricians to use while working on a circuit while keeping the rest of the installation live.
The door of the consumer unit has a steel bracket with a hole through which a locking bracket will fit. When work is finished, the electrician plugs the hole with a bung that is supplied with the board. Spare bungs can be bought in packs of 10.
Chris Howells, product manager for Hager, says, 'The HSE have been pushing the market for a safe way of locking off a consumer unit so that no-one can access the devices. While we have seen compete bars or housings used to prevent access to consumer units, until now there has not been a simple and fast solution.'
Related links:
Related articles: