Weatherite completes its first project for Leeds City Council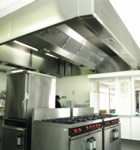 Weatherite Building Services has completed its first project for Leeds City Council with the refurbishment of the Kitchen at Hawkesworth Wood Primary School in Leeds. Central to the upgrade was the installation of a highly efficient kitchen ventilation system. To further improve the working environment and reduce energy use, WBS also provided a tempered air supply to the kitchen.
WBS managed the entire project — including installing new kitchen ventilation equipment, electrical rewiring, upgrading gas services and replacing the ceiling and flooring. The contract was awarded by the architectural services department of Leeds City Council. WBS acted as the principal contractor.
Related links:
Related articles: