Electric towel rails have advanced controls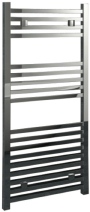 Vent-Axia's range of electrically heated towel rails comprises 10 models. They are IP55 rated and come in sizes from 450 x 600 mm up to 500 x 1500 mm. There are three heat outputs (150, 250 and 400 W), matched to the size of the rail. They are finished in high-quality white and chrome and available as flat, curved and designer styles.
An advanced controller, available in white and chrome, offers five heat outputs. There is also an eco mode to minimise the energy used when drying towels. Full power is supplied for 30 minutes, followed by a user-set reduced output for 90 minutes before the towel rail is turned off. This feature provides warm towels without wasting energy.
For ease of installation, a complete fitting set is supplied.
Related links:
Related articles: