Fan-convector heaters are efficient and effective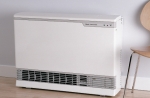 Rinnai fan-convection powered-flue heaters have earned a reputation for providing flexible, safe and controllable heat efficiently and reliably. An array of Rinnai heaters in a large church with central time control can cost less than £5 to provide heating during a Sunday service. The fully modulated fanned convection quickly circulates warm air to take the chill off large spaces quickly. These heaters have a small powered flue to allow flexible positioning; flue extensions are available.
These heaters have flame-failure protection, stainless-steel heat exchangers, automatic, low case temperature and integral air filters.
Models 556T and 1004T (pictured) have the option of central time control. The 308FTR and 556FTR heaters can be fitted with infra-red control (on, off and temperature), a 24 h digital dual timer with intelligent features, self-diagnostic controls and a self-learning preheat time.
Related links:
Related articles: