Wagner takes fire-protection systems on tour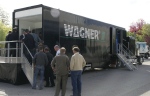 Wagner UK is taking its innovative fire-protection solutions on a roadshow tour of the UK and Ireland during May and June. Visitors will be able to see demonstrations of the OxyReduct system, which maintains an environment in which a fire cannot start. They will be able to try out the Titanus ASD range of air-sampling smoke-detection systems.
CPD presentations will be made throughout the day at all 14 venues. Interested professionals can book an event using the contact information below.
Related links:
Related articles: