Energy-saving controls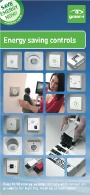 CP Electronics' energy-saving brochure explains a variety of easy-to-install solutions that bring together all the benefits of the company's energy-efficient and intelligent lighting controls. Launched to encompass the popular Green-i range of energy-saving products, the brochure clearly shows users how to take control of their energy usage in commercial, industrial and domestic spaces.
The Green-i range was developed to offer energy savings on lighting, heating and ventilation. The range now includes movement sensors, control systems switches and timers.
For commercial installations, the brochure illustrates how the Vitesse modular lighting-connection system can adapt to layouts or loading by expanding with pluggable modules.
Related links:
Related articles: