Modern communal heating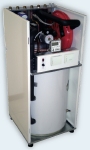 Communal Heating systems based on central plant and heat-interface units in each dwelling offer numerous environmental, economic and social benefits. David Whitfield of Evinox takes up the story.
District heating plays a significant role in the supply of low-carbon heating across Europe. Currently supplying around 10% of the total European heat demand, District heating is particularly widespread in north, central and eastern Europe, where market shares often reach 50% or more. In cities such as Copenhagen, Helsinki and Warsaw as much as 90% of residential heat demands are satisfied by district heat. The use of this type of communal heating system is also becoming more prevalent in the UK, driven largely by Government legislation to reduce carbon emissions generated in the home.
A communal heating system supplies heat to a number of dwellings from a common heat source or energy centre. It may comprise of, for example, a system heating a block of apartments or a larger-scale system heating many individual homes and other buildings.
Heat-interface units in each dwelling convert the heat generated by the energy centre into independent, fast-recovery hot water and high-efficiency heating for each residence. This removes the requirement for individual boilers and a gas supply in each home. The use of a communal energy centre reduces the building's carbon footprint and allows the integration of renewable heat sources, such as solar, air or ground source heat pumps or CHP; it can also help achieve SAP ratings.
This type of heating system provides end users with the same autonomy as if they had their own boiler and tank. Just as with their own independent heat source, they pay for only the energy they use. The-heat interface units in each dwelling incorporate an energy meter, which accurately monitors and records the energy used to provide heating and hot water. There is no requirement for a flue, gas supply or additional room ventilation in each dwelling, making installation simpler, with easy access for servicing and minimal maintenance requirements.
When planning a communal heating scheme some of the things to consider in advance are listed below.
• End-user profile — housing association, private or mixed.
• Renewable Heat Incentive (RHI) and Feed-in Tariffs.
• Project timetable.
• Knowing in advance how you will look after the scheme.
• Service charges. Where will they be charged?
• Tariff costs.
• Debt control.
• Planning for maintenance of the heat interface units and central plant equipment.
• Utility supply agreement.
• Revenue management contract.
• Future replacement costs.
Every communal heating scheme is different, and it is important to consider diversities when designing the system to ensure optimum operational efficiency. Factors to consider include expected occupancy levels of the building and the type of development. For example, the homes may be luxury apartments or social housing; information about the demographic and expected lifestyle of the residents is important.
2-way communication enables every heat-interface unit to be remotely metered, controlled, interrogated and tested.
You must determine realistic expectations for the number of apartments or homes that will require heating and hot water to run simultaneously to ensure the correct diversities are applied to meet demand.
Different diversities can be applied when utilising heat-interface units with integrated hot-water tanks as opposed to units with plate heat exchangers due to the storage of hot water throughout the building. This storage reduces the output required from the central energy plant and, potentially, the size of pumps, primary pipework and flow rates required around the building. This will need to be reviewed on a project-by-project basis in line with specific development constraints.
Thought must also be given individually to the diversities per lateral branch in the building and the risers. In addition, the necessary calculations should be completed to assess if the peak load in the building is heating or hot water.
When designing a communal heating system, energy metering, monitoring and billing should be a key consideration from the outset to ensure the best solution is provided for the residents and the building owner or operator. Available solutions range from simple read-only meters with data provided for independent billing through to a pre-payment system, or a complete remote billing solution using bus communication to provide the end user with a fully itemised energy bill.
Modern 2-way data-communication technology goes one step further, allowing the system in each dwelling to be remotely metered, controlled, interrogated and tested. This provides the ability to not only download data from the heat interface units but to also upload data to provide control remotely.
Previously, landlords and housing associations have been required to maintain a debt fund for a communal heating scheme. This is used when residents fail to pay for the energy they have consumed and leads to an increase in the tariff rate for all residents of the scheme, to cover the debt fund.
This higher tariff can be eliminated by providing a system where residents pay for energy in advance, which keeps the tariff rate down because less administration and less debt-management service are required. For example, our system allows residents to pay for energy in a number of convenient ways such as via the Internet 24 h a day, using a Payzone card at their local retail outlet, by direct debit or over the telephone — making it simple to top up energy at any time.
David Whitfield is managing director of Evinox Ltd.
Related links:
Related articles: