Guaranteeing performance

Those whose business it is to operate services in buildings under performance contracts are proving their capabilities. Michael Hardware looks at the evolution of energy-performance contracts.
The efficient running of buildings is almost never the core business of the occupants or the owners. Instead it is often viewed more as a rather complex and burdensome overhead they would rather not have to deal with. Many do not — outsourcing the entire process to building-services and facilities-management companies, some increasingly using energy-performance contracts (EPCs) through a growing number of energy specialist FM companies.
EPCs come in various forms, combining energy supply with energy efficiency — in effect using wasted energy to fund the reduction of energy costs and carbon emissions.
The Empire State Building in New York was recently refurbished under an EPC, and the approach has actually been used across Europe quite successfully since the mid-1990s.
EPCs have been around in the UK for a similar length of time.
Petbow Cogeneration, then part of British Gas, introduced a CHP discount energy purchase scheme in the mid-1990s whereby the customer bought the heat and power at a set price, with the capital cost being recovered over the period of the contract.
Ener-G launched its 'pay-as-you-save' energy-performance contract model over a decade ago. This energy supply-based approach was similar to Petbow's, offering guaranteed prices for the supply of heat and power with no capital outlay from the customer. Ener-G has extended its guaranteed-savings contracts into building energy management and control systems as well as lighting systems, on a similar basis.
E.ON has another very similar scheme and recently contracted with Newham University Hospital for a 6-year EPC guaranteeing a level of energy saving and carbon reduction within a fixed budget. The project is expected to pay for itself within seven years and cut the hospital's carbon emissions by 3000 t over the same period.
Norland launched its EPC service offering early last year. Gary Perry, director of sustainability, energy and projects at Norland Managed Services, one of the UK's growing energy services specialist facilities management companies, said: 'We have been overwhelmed by the level of interest in NorlandGreen. Our first success was being selected as a preferred supplier to provide energy-efficient lighting to members of the NHS Commercial Procurement Collaborative (NHSCPC). It is one of the largest framework agreements for energy-efficient lighting in UK history, allowing the 55 NHS Trust members of NHSCPC to benefit from our expertise in lighting and in providing performance guarantees for energy conservation measures through NorlandGreen.'
MITIE, another major facilities, property and asset management company, has been offering EPCs for over four years. Mike Tivey, managing director of its asset-management division, predicts that this is a path that will be increasingly trodden. He said: 'We are getting more and more requests to go through an EPC, both from public and private clients.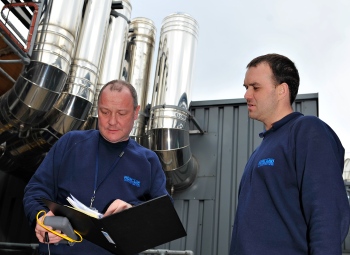 'Building services and energy are non-core activities for many clients. Offering to guarantee energy costs for a set period below those they are already paying is a "no brainer" in most cases.
'We operate an EPC at the Royal Free Hospital in Hampstead which provided savings from day one, and guarantees savings of £850 000 per year.'
But some would argue that the evolution of the EPC in the UK commercial-property sector has been quite slow and that no company has yet achieved a panacea solution to ignite the market.
John Field, vice president of the Chartered Institution of Building Services Engineers (CIBSE), views EPCs as a 'silver bullet'. He said: 'EPCs are very much like the development of the Apple; we all know what it should be like, but someone has to make it work.
'EPCs are very much in the evolutionary stage, but when someone gets it right, like the iPod, then the rest of the industry will have a model to try to emulate.'
Neil Pennell, head of sustainability and engineering at Land Securities, the UK's largest property company, does not currently use EPCs, although he is looking for the opportunity to try the approach. He said: 'EPCs are mainly being used in the public sector, as there is a split incentive within the large commercial rental market. Retrofitting existing buildings using EPCs to improve performance benefits the energy users, which are the tenants and not the landlords. What incentive is there for the landlord unless the tenants agree to fund the EPC? In addition, trying to get agreement to an EPC across a multi-tenanted site can be extremely complex.
'However, where there is a strong landlord and tenant relationship or if a site is to be redeveloped or refurbished, then there are opportunities for EPC models to work very effectively.'
Neil Pennell is also chair of the Retrofit Working Group of the Better Building Partnership. It has produced a toolkit for low-carbon retrofitting, and is currently looking at the challenges for EPCs in the private sector.
Gary Perry of Norland feels that the industry does have very effective EPC models that already work across both the private and public sectors, and the approach will continue to grow. 'EPCs guarantee cost savings, have cost certainty and are low risk. These are significant incentives to convince a growing number of owners and occupiers of the merits of this approach,' he said.
Thus, perhaps, outsourcing through an energy-performance contract could be a credible quick-fix option to optimise energy usage and improve the energy efficiency of a building.
Related articles: