Toshiba's latest 3-pipe VRF air-con system
Toshiba claims world-leading efficiency for its SHRM-i 3-pipe heat recovery VRF air conditioners. At half load, an 8 hp unit achieves an EER of 6.02 in cooling mode and a COP of 5.63 in heating mode. These figures translate into an SEER of eight. Recovered heat can be used to deliver domestic hot water using a VRF 'boiler' accessory.
A key to this performance is the use of up to three highly efficient DC twin rotary compressors in each outdoor unit, with dedicated vector-controlled inverters to control speed in 0.1 Hz increments — rather than an inverter shared between each compressor. The refrigerant is R410A.
Rotary compressors can deliver the required output without any overshoot (see diagram), unlike scroll compressors which initially have to exceed the required capacity. Starting current is just 1 A per system.
The maximum distance for indoor units has been increased to 190 m, and total system piping length has been increased from 300 to 500 m. Outdoor units are available in 8, 10, 12 and 14 hp modules. The introduction of the 14 hp unit extends the range to 18 models, adding six multiplex combinations from 32 to 42 hp.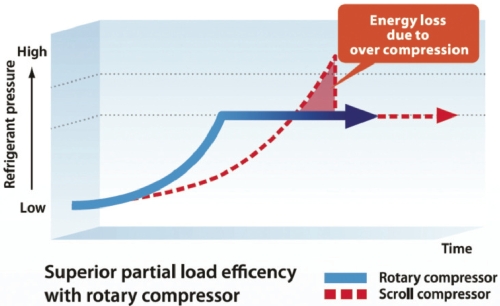 Outdoor units can be matched to a wide range of indoor units — including cassettes, concealed and slim duct units, high-wall and ceiling-mounted, floor-standing and console units.
The system can be connected to Toshiba's Smart control and monitoring BMS platform, giving full remote access and intelligent oversight of energy efficiency and performance.
Related links:
Related articles: