DALI lights the way for LEDs

The union of the DALI protocol and LED light-source technology is proving a successful marriage for today's lighting scheme designers. Peter Rowledge of Helvar provides a guide for success.
Almost overnight, it seems that LED technology has changed the course of the lighting industry. On a seemingly unstoppable upward trajectory, LED has moved quickly out of its niche in special applications to become the most important issue in mainstream lighting.
This level of change has been difficult enough for manufacturers to keep up with, but for building-services engineers who are one step removed from the R&D process, it has involved a quick learning curve on how best to use LEDs for general applications. The growth in demand for LED light-source technology has also driven an upsurge in popularity for designing lighting-control schemes using the DALI protocol as the communications backbone.
Originally conceived for controlling fluorescent lamps, DALI (Digitally Addressable Lighting Interface, IEC 62386) is ideal for the needs of commercial and architectural lighting, and, increasingly, residential applications.
The protocol was born out of the desire for major European lighting manufacturers to have an open control standard that delivered interoperability between components. With this method, a variety of manufacturer products can be involved in a lighting system, instead of being tied to a single supplier. This results in lower system and life-cycle cost, as the system designer is able to select product features from one manufacturer and combine them with products from another. Increasingly, manufacturers are developing DALI LED control devices that are suitable for a wide variety of project requirements. This is an evolving area, and new products emerge on a regular basis.
The basic idea behind DALI is that every luminaire can be separately controlled using a single control cable for all devices on the system. Up to 64 devices can be connected to a single DALI subnet. A number of subnets can then be interconnected using an Ethernet connection, in turn making the system scalable for projects ranging from a single room right up to a site-wide building campus.
DALI has a range of features and benefits that compare favourably with a traditional analogue dimming system. First, because each device on a DALI network as has its own unique address, it is possible to communicate with each fitting directly. This simplifies communication and also provides programming flexibility and scheme adaptability over the life of an installation, as the lighting designer is not tied to a system configuration dictated by the cabling infrastructure. In turn, this provides a number of benefits.
• Multi-channelling. Control several different groups of luminaires and devices with one cable.
• Ease of installation. The DALI network is 'open topology', providing the installer with freedom of installation and, in turn, cost savings.
• Back-channelling. The information flow is bi-directional with the DALI system.
This last point is very important as it opens up a wealth of potential for information feedback from the system. Typical data that can be collected might include lamp-failure alerts, light levels, or load current being drawn. These features become even more pertinent when a DALI system (via an interface) is integrated with a building-management system.
DALI interfaces are also available to integrate to third-party systems such as fire alarms and audio-visual solutions for automatic control via Ethernet, RS232 or volt-free contacts. With the use of lux and movement sensors, DALI lighting can automatically provide 'daylight harvesting' — the maintaining of an optimum level of light by topping-up the natural daylight in a room only as and when required. This facility invariably has a huge effect on energy saving, and is particularly useful in public areas such as entrance foyers and circulation areas.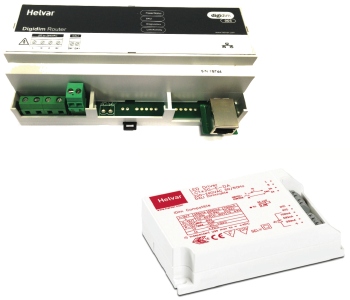 The communication between multiple lighting systems and a centralised maintenance PC allows for automatic alerts to be flagged and reported.
These alert systems, coupled with the self-healing features built into the DALI network, mean that an active maintenance programme can prevent the need for reprogramming replacement DALI devices in the event of a failure, minimising repair times and maximising the occupant/tenant experience.
DALI Emergency is an extension of the DALI protocol, allowing for monitoring of the status of emergency fittings from a front-end PC. DALI Emergency offers a fully addressable emergency system which is expandable to many thousands of luminaires and runs on the same DALI subnet as other standard luminaires, further simplifying and reducing the cost of installation. Using bi-directional information, the system can provide feedback on the status of each luminaire, including lamp status, battery status etc. Following an emergency test, detailed reports can be generated automatically to aid routine system maintenance, whilst satisfying Health & Safety legislation.
DALI system wiring is straightforward and can be carried out with a standard 5-core cable (no separate bus cable is required), and the system is polarity free for ease-of installation. In addition, there is no need to wire luminaires in groups, as the system is programmed with a PC and software. This ensures complete flexibility throughout the life of the system, as there is no costly rewiring required if there is a change in room use, just simple reprogramming. Also, the central monitoring of luminaire status makes fault finding easier and less time-consuming.
Installation simplicity also extends to the hardware, as consultants have the ability to centrally mount area controllers. This gives flexibility of choice where cost per square metre can often be a determining factor on equipment selection for an office project.
DALI products are available in multiple form factors — dimmers, control panels, sensors, LED drivers etc. — all with the inherent flexibility of distributed intelligence. All load types on the system can be controlled from a range of user interfaces such as designer key pads, touch panels, tablets and smart phones. Furthermore, the system can be controlled by a dedicated graphical user interface (GUI), providing a floorplan overview of the lighting scheme on a front-end PC. Set up of the lighting scheme can be done on an individual-luminaire basis which means the ultimate flexibility for scene setting. Re-programming the system is possible through re-commissioning software or changes via a iPad/tablet to allow the owner to set the lighting exactly as they choose, one day to the next. This flexibility is enjoyed without the expensive complications and disturbances associated with rewiring the scheme, thanks to the DALI protocol.
In summary, lighting technology is advancing at a phenomenal pace, with new products from the light source through to the control system. Legislation is driving this change in the corporate sector, along with ever-increasing energy bills. The market needs professionals who understand the technologies and can choose the correct solution for the application.
DALI software enables configuration of lighting groups, presets matching the lighting to the use of space whilst offering integrated energy-management functions. In addition, ethernet.
Peter Rowledge is UK sales manager with Helvar.
Related links:
Related articles: