Energy monitoring moves to the Cloud

The more detailed the information your have about a building's energy consumption, the better equipped you are to manage it — which is where energy-monitoring software comes into the equation. Alan Hickman of Carlo Gavazzi takes up the story.
With buildings accounting for close to half the UK's energy consumption, it is understandable why energy monitoring has become a major preoccupation of building managers. As CIBSE technical director Hywel Davies has said, 'It is becoming clearer by the week that the UK needs to focus on reducing its demand for energy. This will help keep bills down and the lights on.' See first link below.
Together with cost and security considerations, legislation such as CRCEES and UK Building Regulations represents a third driving force for extending and improving energy monitoring systems.
The requirement for monitoring energy use is implicit in part L2 of the UK Building Regulations, which implements EU directives aimed at lowering overall energy consumption and reducing carbon emissions. Whilst not imposing specific requirements on individual buildings, these regulations address overall goals of 5 to 10% savings a year throughout Europe.
Nevertheless, the Building Regulations do recommend energy monitoring as good practice. Building-services operations that have taken the energy-saving message on board have the additional incentive that non-domestic buildings implementing an energy-saving strategy can readily achieve cost reductions of 5% or more, with concomitant savings in their environmental footprint.
Most energy-monitoring systems are based on compact meters sending kWh readings via pulse outputs to localised-control building-management systems. These promise further financial advantages when extended. For example, by using metering as the cornerstone of an automatic monitoring and targeting (aM&T) strategy, property owners and managers could potentially reduce the whole-life cost of buildings and, furthermore, increase their capital value.
Sub-metering has become nothing less than simply good practice, facilitated by the ever-expanding range of measurement parameters offered by today's compact energy meters, which can send a selection of variables via Modbus communications: for example, kWh, A, V, var and power factor. Compact, easy to install, and with retrofit as well as new-build options for installation, modern energy meters provide building managers with detailed data and gathering information for sub-buildings, individual floors — even for specific rooms, plant and equipment — quickly repays the effort.
Supplementing these energy meters, building-management systems are also integrating more sophisticated higher-end devices for analysing the incoming power supply at input to buildings and at further critical points in the system. Modern smart power-quality analysers can deliver precise measurements of harmonics and distorted sine waves — with valuable management features such as parametric analysis, time/date stamping and retransmission.
Moving from simple pulse outputs to bus-based data transmission provides greater versatility and coverage, allowing energy meters and power analysers to integrate fully into intelligent building-management systems. Here, custom or proprietary standalone software turns metered data into usable information that helps to make buildings more efficient and cost-effective.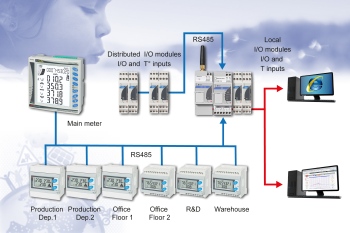 Typical elements of energy-management software provide an interactive synoptic interface, allowing users to browse the monitored electrical distribution system and to see alarm conditions at a glance. A series of links gives access to real-time data from each instrument. The measured variables can be displayed as trends and exported for reporting and further analysis. From these data, costs can be estimated and allocated amongst customers or departments, ideally with a structure that enables complex multi-contract tariffs to be managed.
Even closer integration with BMS is becoming possible as energy-monitoring software moves into the cloud. This is a growing trend and is paralleled by increasing numbers of building-management providers offering cloud-based services and software-as-a-service applications. Vendors are meeting the needs of cloud-based energy monitoring by introducing new gateways that sit atop their measurement and control products.
The aim is to support all four applications pillars of energy management.
In commercial properties such as shopping centres and hotels, the focus is on monitoring and efficiency. For public and residential premises, too, fiscal monitoring aims to reduce costs through energy savings and efficiency improvements. In industry, it provides power-quality monitoring to keep plant and machinery running smoothly and also the cost allocation/targeting required to drive the cost base downwards
Carlo Gavazzi's new energy platform, for example, aggregates data from energy meters, local and remote intelligent I/O modules, such as temperature inputs and control outputs, via RS-485 serial links. It then exposes these data channels to local networks and the Internet by providing three Web services: a file transfer protocol (FTP) server, which enables data to be pushed to a BMS or cloud-based service provider on a scheduled basis; an HTTP client that allows data to be polled on demand; and a Web server providing always-on access to real-time data, trending and alarms.
Further, such gateways also provide the facilities for automatically sending critical alarms by email and SMS direct to the appropriate supervisory or management teams. In doing so, they address the questions uppermost in building energy managers' minds: 'What do we do with all these data?' and, 'How do we integrate energy usage data within BMS?'
Alan Hickman is managing director, UK, with Carlo Gavazzi.
Related links:
Related articles: