Flexible cooling solution for data centres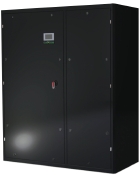 Eaton-Williams's FleXaire range of computer-room air-conditioning systems comprises six models with cooling capacities from 10 to 60 kW. Standard features include EC fans, dual compressors, the latest evaporator designs and profiled corrugated aluminium fins to increase heat-transfer efficiency.
The incorporated controls platform supports the most common standard BMS protocols.
Comprehensive network control and duty/standby strategies can respond to the changing requirements of data centres. More units can be added to provide additional cooling capacity and will operate together to deliver optimal cooling efficiently.
Each FleXaire system and condenser has a self-contained cooling unit, so faults in the refrigeration circuit and pipework will not affect other systems.
Related links:
Related articles: