Time to join the data dots

With new software technology to make more sense of facilities data, analysing it is vital to improving building performance and maintenance, says Charles Askwith.
Building-operations staff struggle to identify key performance data in the day-to-day management of buildings because the systems that collect data are independent — preventing the analysis of data. This is largely the result of how these systems are acquired, which is typically at different stages in a building's lifecycle and by different stakeholders.
For instance, building-management systems (BMS) are specified by the design consultant during the build process, enterprise systems are added at a later date by the occupant. Help desk and programmed preventative maintenance (PPM) systems are typically provided by a facilities-management (FM) company, and energy-metering systems are provided by specialist energy-metering contractors.
So even if a wealth of useful data is available it is massively fragmented — making it impossible for the building manager to get a clear picture of what's going on. As a result, onsite teams are unable to learn from the data collected, and the building's performance suffers.
Even when building managers take the time to connect the data, it tends to be reviewed historically instead of in real-time — so many of the issues spotted will have been left to persist for far too long. Indeed, real-time analysis of data is the only way to understand key issues such as gradual rises in energy consumption (perhaps resulting from aging equipment), how maintenance affects energy consumption, and whether one manufacturer's equipment is more reliable or efficient than another's.
The disconnect of electrical data and the dispersion of paper-based data over time has become so widespread that key information (design schematics for systems and equipment service records etc.) that should be readily accessible is rarely to hand, resulting in expensive call-outs and downtime of plant when issues arise. This situation is made worse when FM contractors and sub-contractors operate their own reporting systems, making it difficult to compare data and control what information is logged. Data also becomes more difficult to retrieve, so lessons aren't learnt, leaving the same problem and responses to happen again and again.
All these problems create a disinterest towards data analysis that erodes performance and causes problems further down the line. Simple things that shouldn't be ignored (such as failing to audit maintenance activities or record energy consumption figures for equipment before and after repairs or maintenance) can leave staff unable to detect performance dips or tell if upgrades have made a difference.
We decided that these issues could be overcome by using software that channels data into a single database.
We successfully trialled our own program at a London hotel where slow fault repairs were impacting the customer environment as well as the energy efficiency of the 630-room building. The program we developed communicates with multiple systems (including the asset database within enterprise systems, building-management systems, UPS systems, packaged heating and air conditioning (HVAC), generators, automated help desks, energy meters and external facade lighting), pulling all of the data into a single system, rationalising it against benchmarks and presenting it in an understandable format so onsite engineers are able to join up the dots.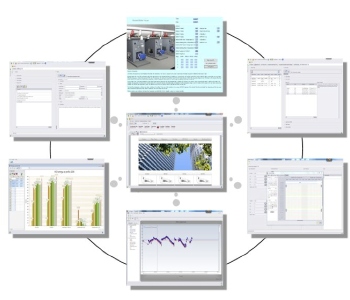 It also uses a standardised system of reporting, enabling clients to set the parameters for both onsite staff and sub-contractors. This includes automated telephone reporting so staff, engineers and managers can report faults directly to the system, which speeds up corrective action as work orders are issued automatically to the duty engineer's telephone, describing in full the fault, location and task. The program then updates the asset database recording the fault, when it was received, who reported it, the location, the engineer called-out, and, on completion, how the problem was fixed.
With all records accessible on a single system the building manager can obtain reports on assets, staff, and vendor performance, as well as review the frequency at which faults occur and how they were corrected. The building manager can also see which equipment repeatedly fails and who is best at correcting certain faults.
Nothing is left unresolved, faults aren't miscommunicated, and if a problem happens again the duty engineer can quickly identify who to contact and what was done on previous occasions to correct it.
With one system, there is a logical place to provide guidelines and training tools to assist onsite teams. It's a simple, logical approach that helps staff to utilise data to improve a building's performance and their knowledge, saving time and money.
In our opinion, the way forward must be analytical software solutions that all those managing buildings (FMs, in-house building managers or remote IT consultants) can use to provide comprehensive data analysis. This is the only way the Government's targets for energy consumption and reducing carbon emissions buildings can be achieved.
Charles Askwith is chairman of Mentor Building Management
Related links:
Related articles: