5-year warranty for expansion vessels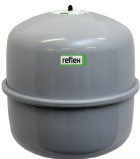 To mark the first anniversary of the successful partnership between Altecnic and German-based Winkelmann GmbH, the company is offering an extended 5-year warranty on all its nitrogen-filled Reflex expansion vessels.
Nitrogen is an inert gas and does not react to moisture. In contrast, air-filled vessels are prone to rust and rubber seals corroding. Controlled tests by Altecnic's technical department have demonstrated that over six months, Reflex vessels lost none of their preset pressure. In contrast, an air-filled vessel lost 13 kPa in just four weeks.
Related links:
Related articles: