Saniflo's new trade brochure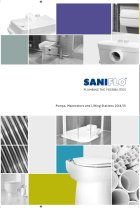 Saniflo's latest trade brochure of sanitation products features the professional and domestic range, along with Saniaccess and Sanicondens ranges. Alongside each product there is a 'why choose this product' section, which clearly indicated how and when each product is best used, with the aim of simplifying product selection and providing installers with a reference guide.
Product imagery clearly illustrates example applications and supports the practical guidance.
Among new products in the catalogue are Sanifloor, which can be used to create a shower space or wet room almost anywhere. Sanifloor is a shower waste with a dual-function suction pump and sensor that sucks waste from the gully and pumps waster water up to 0 3 m away.
Related links:
Related articles: