CP Electronics re-invents its lighting control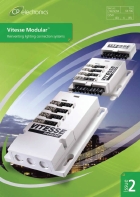 Lighting-controls specialist CP Electronics has prepared a comprehensive brochure for its Vitesse Modular range. The modular design of this range enables users to extend a system, adding modules as and when they are needed — for 4- way to 16-way — so that the system provides an extremely cost-effective solution for controlling lighting in commercial, retail and industrial environments.
The VITM4 range now includes single-channel and 2-channel switching options. 4-pole connectors for standard luminaires enable automatic control with presence detectors or an SELV switching module.
For dimming applications, the VITM 6 range with 6-pole connections for luminaires has a dimming ballast than can provide switching plus dimming with presence detectors or an SELV switching and dimming module.
A range of handsets can be used for programming and commissioning.
Related links:
Related articles: