The business case for a contractor of off-site manufacture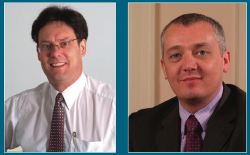 Developing off-site manufacture is a vital element in the future development of contractor NG Bailey, and it brings major benefits to the construction industry — as CAL BAILEY and PHIL GREEN explained to Ken SharpePrefabrication and off-site manufacture is a firmly established operating unit for M&E contractor NG Bailey — growing quickly to be an important part of overall business strategy and a key plank for future development. The work is carried out in two buildings on a site in Bradford comprising 2000 m2 of space and began five years ago. In that time, Bailey Prefabrication has been involved in around 130 projects, and the number is growing fast says Phil Green, head of Bailey Prefabrication. Its customers are the five regions of NG Bailey throughout the UK and their 57 project teams.
Business case
The business case for Bailey Prefabrication is based on boosting productivity, addressing construction issues such as congestion, safety and waste and assisting with rapid programmes. A key benefit immediately highlighted by Phil Green is the near doubling of productivity in a factory compared with the same work being carried out on site. He tells us that productivity on site is just 45%, compared with 85% in the factory. Prefabrication director Cal Bailey adds in the factor of the increasing difficulty of recruiting trained labour as a driver for moving towards prefabrication. He explains, 'Offsite production is seen as a means of overcoming site labour shortages and supporting operatives with output from the factory.' As a company, NG Bailey is the largest trainer of apprentices in the M&E contracting sector. They currently train 350 apprentices, and most of them undergo three years of training.
Customer benefits
Not only does prefabrication help solve the staffing and skills needs of the industry, it also offers significant benefits to customers. Among these benefits, says Cal Bailey, are the reduced risk of delay to a project and avoidance of surprise costs on site. Health and safety is also easier to manage, because there need be fewer people on site and fewer deliveries. Factory production is a much better environment than a construction site, and the volume of waste is reduced enormously — by at least a third.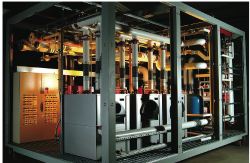 Being able to drop compete prefabricated plantrooms into position on site saves time and reduces the number of skilled operatives required on site.
Cal Bailey says, 'I regularly meet clients who are frustrated with construction in the UK. Off-site manufacture gives much greater assurance of quality, delivery and cost and addresses these three industry issues head on. But it does so in a manner that people can find difficult to adjust to. This, unfortunately, is a cause for conflict. The upshot is that a convincing case for OSM and its benefits has to be presented.
Shop window
'Convincing clients is easy — we simply show them the factory. Our prefabrication factory is a shop window for clients, and they are impressed by it. Some clients see construction as slow, expensive and delivering low quality — but seeing our factory in action immediately changes that perspective.' Some site operatives are guarded in their response to prefabrication. Cal Bailey believes that's because off-site manufacturer is seen as a threat to the 'can-do' mentality of contractors. 'They are used to making decisions on site and overcoming problems. OSM represents a culture change and while it improves speed, quality and cost, it also takes away part of their scope.' Phil Green, who has much experience working on site, believes such fears are misfounded. He explains, 'It's not realistic to ask skilled operatives on site to put in miles and miles of pipework. Their skills need to be better utilised, and off-site manufacture is the means to this end. The growth made possible by OSM will mean that operatives will not be taken off site but supported in higher quality, lower risk, more rapid construction with output from the factory.'
Culture change
Having accepted that prefabrication and OSM offer benefits all round, the next stage is for a major culture change in the construction industry. The benefits of OSM cannot be delivered, argues Cal Bailey, unless detailed design work is carried out very early, completed, and the design is then frozen. 'It is not uncommon in the construction industry to sign off a drawing after the installation has been completed. However, until the design is completed and frozen, off-site manufacture cannot be started. 'The decision to use prefabrication must be made very early on in order to make the best use of this off site method. The building has to be designed around prefabrication, and we are testing the ability of the industry to adapt.' Cal Bailey summarises, 'The business case says that OSM is right, but there is a culture change to achieve.' The potential of OSM is demonstrated by work going through the Bradford factory last month. The order was for 12 plant-room modules for the new pathology unit at Kingsmill Hospital in Mansfield. They range in size from 4 x 3 m and 4 m high to 7 x 3 m and 4 m high. The speed of work that is possible in a factory means that only six weeks is required to populate these modules with plant and equipment. Phil Green explains that this project was designed for modular construction. 110 modules will make up the new pathology department, and the plant rooms being built by Bailey Prefabrication will form 12 of them. Bailey Prefabrication's five years of experience in OSM enables them to look forward to a future based on the production of large modular products comprised of, all the equipment traditionally installed on site — whether above ceilings, in risers or in plant rooms. The prefabrication concept is sufficiently advanced for a catalogue to have been developed. 'There are few other M&E contractors with a product catalogue,' asserts Cal Bailey. 'The future of M&E design is the rapid design of repetitious elements using CAD blocks incorporating customised products – saving time for design engineers to do unique elements thoroughly. This will improve build quality while reducing the construction period, cost and uncertainty. This is our vision for the future,' concludes Cal Bailey.
Bailey Prefabrication is at Dealburn Road, Low Moor, Bradford BD12 0RG.
Related links: