Controlling office lighting for effectiveness and efficiency
NEIL JONES describes how lighting control can cut an organisation's fuel bill and also deliver other key business benefits.The August 2006 issue of "Modern Building Services" noted that energy efficiency will become the central theme of the building-services industry for the foreseeable future. This is due both to the rising cost of oil and the Government's challenging targets for reducing carbon-dioxide emissions. One significant, and easy, way of saving energy is by eliminating the wasteful use of lights, which is simply achieved by installing lighting controls or lighting-management systems. After all, lighting can account for up to half of a commercial building's electricity costs, and with electricity usually accounting for half of the total energy bill, there is the potential to save 25% of the entire electricity load.
Essence
The essence of lighting control is to ensure lights are on only when they are required and that they always deliver the optimum brightness levels. There are various ways to automatically control lighting in office and commercial buildings. The crudest method, and the one that has been around the longest, is by timer control — setting the lights to switch on and off at pre-set times. It is not difficult to see the disadvantages of this method. In an age of flexitime and hot-desking, there are few workplaces today where such a rigid approach to controlling the lighting would be appropriate. Incorporating lighting control alongside heating and air-conditioning functions within the building-management system is not an ideal solution. Building-management systems are fine for controlling a small number of large and static loads such as heating and ventilation plant. But lighting control should be about controlling a large number of small loads (the light fittings themselves) distributed throughout the whole building. Presence-detection lighting controls are expressly designed to save energy by ensuring that lights are never left burning needlessly in areas that have been vacated or where there is already enough natural light. These are sophisticated yet discreet controls which use a variety of detection technologies — passive infrared, microwave, ultrasonic — to continuously monitor the working areas and detect the slightest movements that signify occupants are present. Photocells can be built in to measure the natural light available and tell the luminaires whether to switch on, and at what brightness. These combined presence detection/photocell devices have been installed in office and commercial buildings up and down the country, often controlling areas such as corridors, stock rooms and meeting rooms. Energy cost savings of 40 to 60% are usually made in office applications.
Managed lighting
For integrated and intelligent building-wide lighting control, a managed lighting system offers the most efficient, cost-effective and installer-friendly solution. A managed lighting system allows groups of luminaires to be individually controlled in pre-determined work zones, in an open-plan office, for example. Detectors associated with luminaires can swap occupancy information with others in the building — useful for delivering the correct level of lighting to occupants in work zones and holding lights on automatically in key circulation areas and corridor routes. Think of it as creating the ability for an entire building's lighting system to think for itself and make intelligent decisions about the optimum delivery of light. Systems can be further enhanced, for example by incorporating a scene-selection capability whereby occupants can choose previously set lighting scenes to best suit the current use of the room. A lighting scene in an office could be brightly lit for office cleaning, then dimly lit for an AV presentation. It is easy to see how automatic lighting control can deliver significant bottom-line savings in energy costs. But automatic lighting control delivers other benefits too. One is the elimination of problems caused by 'churn', the constant change of use in office layout in a dynamic business environment. Traditionally, electricians had to be employed to alter wiring and luminaire positions to accommodate any new working patterns in the office. With a lighting-management system installed, the need for rewiring is eliminated. Individual luminaires and groups of luminaires can be easily reprogrammed again and again using a remote-control programmer, so making every future office reorganisation simple and cost effective. Compliance with legislation is an increasing concern for managers of commercial buildings. Automatic lighting control ensures that the latest lighting-related rules, including Building Regulations, health-and-safety legislation and regulations about display screen equipment, are being met. Another benefit is difficult to measure, but evident in every office setting where automatic lighting control has been installed. It creates an ideally lit environment — not too bright, not to dim, in which staff can work in comfort and therefore more effectively and productively.
Neil Jones is managing director with Ex-Or Ltd, Haydock Lane, Haydock, Merseyside WA11 9UJ.
LIGHTING CONTROL ADDRESSES CHURN
Changing levels of occupation and space usage at Yorkshire Water's 3-storey office headquarters have been addressed using Ex-Or's MLS managed lighting system. It was specified by consultants Arup and installed by contractors Shepherd Engineering Services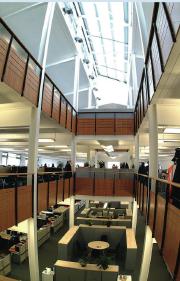 Ex-Or's Gary Pearson explains, 'We successfully managed the concept of office "churning" on this project. Every change has an impact on the lighting in each particular area, so we had to design a system that could cope with every eventuality.' The programming of different zones with corridor linking in such a building would normally need to be controlled by a central PC, but we introduced a simpler, more user-friendly feature. The system is managed via a hand-held infra-red programmer which can re-set lighting levels in different zones quickly and easily. This ensures that response to changes of occupation can be made much more readily and efficiently.'
Related links: