Managing the water supply for the 43-storey Providence Tower
London is one of the most desirable places in the world to live, with a high demand for residences that reflect the lifestyle and expectations of people who live near the city centre.
Providence Tower, a 43-storey apartment building development located near Canary Wharf, has 360° views of the River Thames and The City from its roof-top garden.
Its stunning architecture makes it one of the most exciting residential developments in London.
The apartments will have a high standard of building services, with thermostatically controlled heating and comfort cooling in living areas and centralised boiler plant to provide heating and hot water.
The height of the tower and water usage requires careful consideration to ensure adequate supply is maintained when residents use the water services at peak times.
Water-pressure regulation is essential to ensure adequate capacity for the demands of the building and the apartments' occupants.
Honeywell DR300 flanged pilot-operated diaphragm pressure-reducing valves are installed on each floor in Providence Tower to manage and balance water pressures within the building. Honeywell valves in this range are available from DN50 to DN450 and are capable of controlling inlet pressures of up to 25 bar with outlet pressures between 12 and 1 bar).
Pilot-operated pressure-reducing valves (PRVs) work on the servo principle, where comparatively low pressures controlled by a small valve (the pilot valve) act on a diaphragm connected to a larger valve.
The majority of DR300 valves installed are sized DN65. These are complemented by Honeywell DO6FN direct-acting pressure-reducing valves used in pipe sizes up to DN50.
Water-supply systems in large buildings are suspect to excess pressure surges which can cause damage to pipework and equipment.
The Providence Tower wholesome-water pipework is protected by DN50 flanged Honeywell SV300 pilot-operated safety valves fitted at basement level.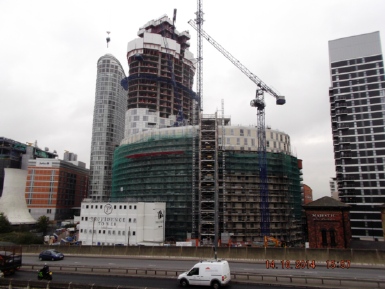 This installation will help protect pipework from potential damage due to any sudden pressure surge in the building from a booster-set malfunction or a column of water suddenly dropping down the risers in the event of pump failure.
Using the same pilot operating system used in DR300 PRVs, the SV300 safety valves detect over-pressure in the system and immediately open to the maximum valve position to release water to storage tanks or drains.
The SV300 pilot system enables large valves to open quickly to relieve excessive pressure, avoiding system and consequential water damage.
Andy Kirby, project manager for Briggs & Forrester mechanical contractors working for Balfour Beatty on the base build and Ballymore on the tower building fit out, said, 'We selected the Honeywell pressure-reducing valves for the Providence Tower on the basis of our own internal supplier-conformance system that monitor key performance indicators (KPI).
'Product quality, performance and application reliability are key factors critical in design selection of a wholesome-water management system. Our decision to use Honeywell was brand reputation supported by previous experience with the products.'
Tony Gorman, Honeywell account manager, added. 'Large prestigious projects such as Providence Tower are always exciting and rewarding.
'Wholesome-water supply services are extremely important in all occupied buildings. High-end residential apartments are especially demanding to ensure home owners' requirements for quality of performance are satisfied.
Providence Tower is scheduled for completion in June 2016
If you would like to have any more information on Honeywell Water Products please visit the link below.
Related links:
Related articles: