Solar means business
The adoption of solar PV on commercial buildings in the UK is well behind other countries. Brian Smithers of Rexel UK highlights the huge benefits solar can offer the UK's commercial premises and why it's surely time to join the solar revolution.
As the cost of solar energy plunges, the solar industry is growing at what some describe as 'lightning speed'. However, this is on a global front, and the reality is that there is still much work to be done in driving large scale solar adoption in the UK — particularly in the commercial realm.
Although commercial and industrials roofs are widely populated with solar in Europe, the UK, although growing steadily, is still lagging far behind — commercial roofs account for just 5% of all solar deployment to date.(1)
However, the use of commercial buildings for solar generation is incredibly important. After all, commercial and industrial premises typically house enormous vacant, functionless, roof-spaces that are perfect for generating solar energy. Unsurprisingly then, commercial roofs are where the Department of Energy & Climate Change (DECC) says it wishes to see much of the solar installed in the future.
Solar adoption can also help to aid in a businesses' Corporate Social Responsibility (CSR) tactics — helping to demonstrate its 'green credentials', pleasing the finance officer and, in turn, the increasingly eco-aware consumer. Plus, it will aid any business seeking to perform well in the Carbon Reduction Commitment (CRC) by reducing the number of emissions allowances they will need to buy by cutting emissions, thus putting them at a cost advantage to competitors that have not done so.
For the business owner, however, major reductions in energy bills are perhaps the most immediate and powerful argument to invest in solar. Generally, commercial rooftops can save businesses around 30% on their energy bills which, particularly when it comes to large scale establishments such as factories and warehouses operating masses of electrical equipment, can translate into the thousands of pounds in energy cost savings each year.
So, one may ask, why the lack of pick-up? One of the main limiting factors to the market is a lack of commercial awareness and confidence from rooftop owners who need reliable guidance. According to a recent study, 75% of businesses underestimate how much money can be saved on electricity by installing solar panels — the majority putting the figure at 0 to 20% and several believing that it is 'negligible'.(2) The same study also flags an overwhelming lack of knowledge around solar and the logistical aspects, such as planning permission and installation, due to a lack of available information.
However, this is all set to change. As a renewables expert, Rexel UK is committed to driving commercial confidence in solar PV and make purchasing, installing and maintaining a solar PV system easier for UK businesses.
The dedicated Rexel Energy Solutions team sources solar products from around the world, all tested against rigorous benchmarking standards to offer UK businesses advanced solar systems. This is backed up with second-to-none support service with the Rexel team working in a partnership approach with businesses to ensure they have the most suitable solar system tailored to their own unique requirements.
For a particular project, our team will typically conduct a feasibility study to establish the suitability of a commercial building for a solar installation and then link the client to an accredited installer. The installer will visit the site to estimate the potential energy and cost savings that could be made for the building. This is important in order to provide a tangible demonstration of the range of benefits a solar project could bring — environmental, financial and in terms of CSR. We will then make recommendations following the site review, for the most suitable and efficient products and manufacturers for the demands of the individual application.
Helping in both product supply and delivery in this way ensures the solar installation is completed within require time frames and to the exact specification — while ensuring it generates, if not exceeds, the expected energy savings.
A good example is the solar PV system recently installed at JSP Ltd, a European market leader in personal protective equipment based near Oxford. Looking to reduce its carbon footprint, the company requested a feasibility study, which quickly highlighted the energy savings that could be achieved. The study showed that the site with its 200 employees could potentially be served almost exclusively by solar power. Rising energy costs meant that the payback period would be an important factor, so panels offering the highest system efficiency with a peak power of 250 W were selected.
From an aesthetics point of view, part of the property was an old mill with a new slate roof, so Rexel and the installer proposed black modules in that area that would be more sympathetic to the architecture of the property and provide a more discreet solution.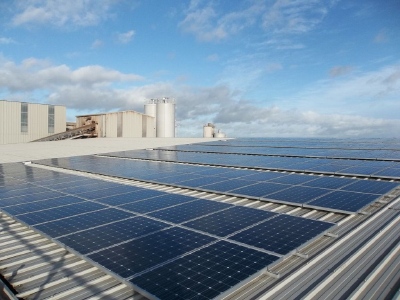 Since going live in March 2014, the 133 kW system has saved 222 MWh of electricity and 400 t of carbon — the equivalent of 73 acres of pine forest. The energy saved is enough to run a TV for 65 784 days or power 1747 computers for a year.
In average, solar energy provides the energy to produce a third of JSP's safety helmets, rising to 100% on sunny days.
This is a medium-sized commercial premises, so business owners can only imagine the savings to be had by installing solar in vast factories and warehouses.
As the energy dilemma heightens and businesses come under increased pressure to reduce their carbon footprint, the reality is that they must take action today. Solar PV, particularly with prices coming down, provides the perfect solution; its benefits include reduced energy costs, a new revenue stream, heightened CSR and green-tape compliance.
For those who aren't already then, surely it's time to join the renewable revolution.
Brian Smithers is strategic development director at Rexel UK.
References
1: www.solar-trade.org.uk/new-checklist-aims-to-boost-solar-across-uk-commercial-rooftops (or Google 'STAS checklist' and look for 'New checklist aims to ...')
2: www.solarpowerportal.co.uk/guest_ blog/commercial_solar_survey_identifies_familiar_problems_for_the_industry_3425 (or Google 'solar power portal Kaeflein' and look for 'Commercial solar survey...').
Related links:
Related articles: