Bridging the performance gap

Post-occupancy evaluation of buildings plays a key role in optimising their performance. Indeed, it is a requirement of BREEAM and BSRIA's soft landings framework — but every building can benefit, as Natasha Fox of Method Consulting explains.
Building-services engineers play an important role in the wellbeing and comfort of a building's occupants. Once a building is up and running, a user's concerns are usually related to its conditions, which are often assumed to be resulting from the mechanical, electrical or public-health design. However, overheating can be a fundamental building design issue, such as window sizing or shading, and not a services issue, like an under-sized cooling system. Every building is different and engineers sometimes get the raw end of the deal!
What is POE?
Building performance evaluation and post occupancy evaluation (POE) through user surveys is a hot topic at the moment, with plenty of academic research in the area. Oxford Brookes University's MSc in sustainable building performance and design includes an entire module on POE, educating future designers about its importance. With clients wanting to know how their building will really perform and researchers wanting to learn why there is a performance gap and how can we reduce it, there's a real gap in the industry for going back to a project and reviewing how things are in real life.
Real life is where building design can get even more complicated, which is why the performance gap is being talked about. Clients naturally want to be able to foresee what the energy consumption will be or what temperatures might be reached for naturally-ventilated buildings.
Dynamic computer modelling can help designers, but it is almost impossible to accurately predict how a client will operate its building, how occupancy patterns will fluctuate, or whether people within a space will use its systems in the way they were trained to.
At Method we use the BUS Methodology (Building Use Studies) to conduct POE. An independent consultant visits the building to conduct prescribed quantitative and qualitative occupant surveys, using 45 variables, to question the building's users. The information gained is used to prepare a user-satisfaction review. Arup is the custodian of BUS Methodology, which includes a growing dataset of similar buildings against which clients can also benchmark their building.
12 summary variables are reviewed in the BUS Methodology.
•temperature in summer
•temperature in winter
•air quality in summer
•air quality in winter
•lighting
•noise
•comfort
•design
•needs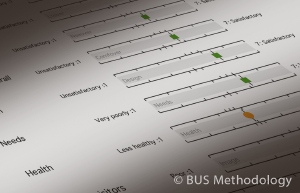 •perceived health
•image to visitors
•perceived productivity
Most of these parameters can be influenced by the building-services design. Each engineer has a role to play in determining how users will interact with the building-services systems and reduce the chances of complaints after handover. Dynamic modelling gives a reasonable estimate towards what temperatures and comfort conditions will be, and participating in the POE process shows clients are willing to continually improve, while giving them best value for money.
The benefits of POE
POE brings a range of benefits for both clients and designers. Importantly, it can show employees that their employer genuinely cares about their wellbeing. It also gives the employer an opportunity to take remedial action before their employees' efficiency is impaired or, worse still, they leave.
For clients needing a tangible reason for refurbishment, conducting surveys before and after can demonstrate how much a working environment has improved, as well as identifying problem areas that can be addressed in the brief of the next project — saving money by setting an accurate brief from the outset.
Furthermore, building designs are often repeated and the same systems installed from one project to another. Without POE, mistakes can be repeated from project to project without designers ever realising.
Seasonal commissioning has been around for a long time and most engineers probably understand its importance, but clients can miss seeing the benefit of paying consultants to return to check how the building is performing in real life. Likewise, builders or consultants often fail to take post occupancy seriously and miss the benefits of including it in appointments from the outset.
Links to Soft landings and BREEAM
Post-occupancy evaluation is part of the final steps (stage 5) in the principles of BSRIA's soft-landings framework. The soft-landings framework recommends POE is undertaken in the third year after occupation to allow for initial issues to have settled down and to gain proper feedback, though it notes that earlier surveys within the first year can be useful for initial feedback.
BREEAM requires POE to be undertaken 12 months after occupation, and projects can achieve a point under the management category where there is a commitment in place to undertake formal POE. Soft landings and BREEAM both require extensive user training at handover, and POE can identify any gaps in knowledge. Perhaps everyone is cold in winter simply because no one understands how to programme the room thermostat.
POE delivers
Crucially, a comfortable building with low running costs for the people within it requires collaboration between architects, main contractors and building-services engineers — from the outset. All building projects should be evaluated as a matter of course — resulting in improvements in performance across the UK building stock, increased employee productivity and reduced costs for employers.
Natasha Fox is a partner and sustainability consultant at Method Consulting LLP.
Related links:
Related articles: