CPD guide to chiller technologies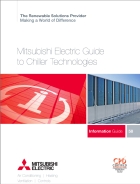 Chiller technologies and the role they can play in helping to reduce energy consumption and energy costs in buildings is the subject of Mitsubishi Electric's CPD-accredited industry guide. Legislation such as the F Gas Regulations is forcing many businesses to assess their cooling systems and rising energy costs.
Jason Tinley, product manager for central plant, explains, 'We've prepared this guide as part of a series that looks to enhance the knowledge of anyone responsible for keeping buildings a pleasant place to live, work and play in.'
This free guide looks at key issues facing the industry today and the increasing importance of legislation such as the revision of Part L, as well as regulations like Energy Performance Certificates (EPCs) and the Energy Saving Opportunity Scheme (ESOS).
A pdf version of the guide can be downloaded from Mitsubishi Electric's digital library.
Related links:
Related articles: