Airbloc vertical door curtains add style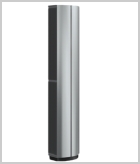 The Airbloc ACV Series of air curtains from Nortek Global HVAC are suitable for mounting either side of the door opening, but can be mounted horizontally if required. They are designed for use in exclusive shops, headquarters office buildings, hotel lobbies, golf clubs, conference centres and large glass-fronted structures.
These door curtains are designed for high-end applications and available with a polished, mirror-polished or brushed-stainless-steel finish. The intake and outlet grilles are black. They are self supporting and do not require extra steelwork or brackets. Adjustable feet compensate for uneven surfaces.
There are three models in the range with heating capacities from 16.2 to 34.6 kW. They are suitable for doors with heights up to 2, 2.5 and 3 m.
All models come with a choice of ambient, 3-phase electrical and LPHW connections, which can be through the top or bottom.
Control is via a wall programmer that incorporates temperature and time functions. In advanced mode, these heaters can be controlled via the Modbus protocol.
Related links:
Related articles: