Sontay's universal sensor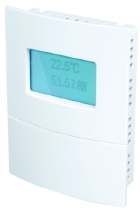 The single-output UN-Sensor is the latest low-cost addition to Sontay's range of sensors and will automatically detect if the controller signal is 4 to 20 mA or 0 to 10 V. A range of variables can be measured — air quality, carbon dioxide and relative humidity. These sensors are just as reliable as the standard Sontay sensing devices.
UN-Sensors are available as space, plant and duct versions. The space version comes in a polished white finish and can be mounted onto any wall surface. A fully configurable liquid-crystal display is available as an option, as well as a resistive temperature output.
These sensors automatically connect to the controller output; there is no need to select from jumpers or DIP switches.
Related links:
Related articles: