Adding lighting control to the scope of a BEMS
Bringing lighting control within the scope of a building-management system offers a host of installation and operational benefits. Mike Welch of Control Network Solutions discusses how the Tridium Niagara platform can help offer a cost-effective and energy-saving smart lighting control solution.
Harnessing the Internet of Things (IoT), the Tridium Niagara Framework can provide a complete management control solution, connecting a range of building smart devices, services equipment such as HVAC, access control, and wireless energy harvesting device networks to the Internet to create smart buildings.
By integrating these services within the Niagara Framework, real-time comprehensive control, monitoring and management is possible — enabling reduced energy costs, improved security and total control over a building's facilities.
As smart-building technology has begun to revolutionise many markets, such as HVAC and security, the smart-building movement is now also driving the smart lighting sector.
Typically accounting for up to 19% of a building's running costs, lighting is a significant cost for a building owner, so upgrading to automated smart controls is often deemed an effective way of improving energy efficiency.
However, current lighting-control solutions from traditional providers are mostly single vendor and standalone — meaning a single source of supply for components and a specific skill set is required to install and offer system maintenance as a service. As a skills shortages is currently an issue within many sectors of the construction industry, delivering lighting control from within the existing BMS platform presents an ideal opportunity for BMS engineers and building owners.
For example, many existing lighting-control solutions are highly inflexible, not offering instantaneous adds, moves or changes to address a client's evolving business needs and often require specialist installers that may not be local. This drives up the cost of installation, maintenance and any additional changes a building owner or manager may require.
By using a smart IoT web-based solution such as Elitedali, utilising the expertise of the existing BMS maintenance and service provider, any suitable Niagara BMS platform can be connected to as many as 1280 intelligent light fixtures. This means the solution generates 99% less CO2 emissions* when compared to just one 'traditional' solution based on LCMs (lighting control modules). Furthermore, the amount of installed hardware is immediately reduced by six fold, as a single traditional LCM can only connect to typically 10 light fixtures.
This instantly presents a cost saving for building owners, as by using the already installed BMS platform and installing Elitedali lighting controls, removing these extra levels of components can, as seen in a Danish retail store, produce energy savings of up to £7000 per month — including through reduced parasitic power consumption by the lighting-control solution.
As lighting is often overlooked by both experienced and new engineers when installing the Niagara BMS, there are several unique benefits that building owners and managers are missing out on.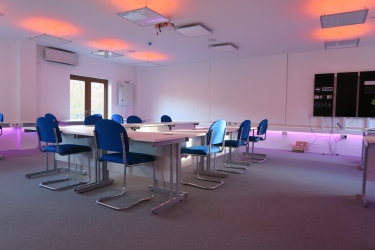 For instance, connecting networks of intelligent light fixtures directly to any suitable BMS platform ensures building owners and managers have complete real-time control over their lighting solution from any location (both local and remote) in the world via the Internet, using any suitable web browser. Such control includes the widest choice in who installs, commissions and maintains the system — as well as having total access to all live light fixtures, sensor data and commands, allowing for real-time control, monitoring and analytics.
In turn this provides BMS engineers another offering to add to their portfolio based upon their existing training and qualifications, as they are already aware of the systems being used. The idea of using existing BMS as a smart IoT lighting control solution also makes sense when considering the skills shortage, as it allows for the expertise currently within the sector to go further — with engineers being able to offer more, with only a modest training investment necessary.
Alongside future cost savings and increased building energy efficiency, utilising the building's existing BMS platform as a lighting control solution dramatically reduces the initial cost and investment required.
Therefore, by choosing a smart IoT web-based solution based on simplified architecture and fewer components, significant improvements in building energy efficiency and running costs can be achieved, whilst providing a much reduced carbon footprint from manufacture and installation through to operation and final disposal.
Lighting is often neglected by BMS system integrators, so Niagara-based smart IoT lighting controls could be referred to as one of the control industry's best-kept secrets, or, alternatively, an engineer's lost opportunity. However, as global construction and building managers continue to drive toward sustainable, energy-efficient buildings and with market-disruptive solutions such as Elitedali becoming established in the lighting controls sector, it is unlikely to remain so for long.
Mike Welch, Managing Director of Control Network Solutions
Related links:
Related articles: