Wolseley UK's new energy-efficient data centre
Designed for energy efficiency, Wolseley UK's new data centre continues to improve its performance and has enough solar energy to power it during the summer. Dylan Lupton explains.
Businesses view IT as so much more than a core function of their organisations. They see it as an enabler of new business and innovation and are prepared to invest in their IT infrastructure.
The evolving nature of technology means that to grow efficiently, firms must continuously modernise data-centre infrastructures and adopt new, greener technology. Set against the backdrop of rapid data growth, the usability and productivity of data centres has become ever more important.
In late 2015, Wolseley UK opened its new award-winning data centre in Leamington Spa. The Tier 3+ facility has won industry plaudits for the use of green technology and provides Wolseley UK and DT Group (our Nordic counterpart which shares the facility) with more secure, available, scalable and efficient IT infrastructure.
Reflecting a multimillion pound investment, the new facility employs brand new technology to maximise efficiency and reduce running costs.
Traditionally, data centres have relied on so-called 'chaos' air distribution to maintain optimum running air temperatures. This method uses perimeter computer room air-conditioning (CRAC) units to pump out massive volumes of chilled air to cool the IT equipment and push hot server exhaust towards the facility's return-air ducts.
Still used today, such air distribution has been known to result in a wide range of significant inefficiencies — including re-circulation, which is typically caused by poor rack hygiene and insufficient cool air being available at the top of the face of the rack. Therefore, the hot exhaust air finds its way back into the air surrounding the server causing IT equipment to reach dangerous temperatures.
To overcome these issues, Wolseley UK has adopted a cold-aisle rack orientation arrangement, in which only hot air exhausts and cool air intakes face each other in a given row of server racks. Equipment has been contained in three enclosed areas which require cooling, thus reducing the amount of space needed to be kept cool — a substantial environmental benefit considering the recent comparison that data centres use the same amount of water as wine producers for cooling.
The introduction of this containment cooling strategy is designed to organise and control air streams that capture hot exhaust air, vent it to the CRAC units, and deliver chilled air directly to the server equipment's air intakes.
Resulting in a series of important benefits, it improves cooling efficiency by preventing the supply and return air streams from intermingling — well-designed containment solutions that eliminate wasteful re-circulation, air stratification and bypass airflow.
To increase reliability, the data centre's cooling system eliminates re-circulation and spares servers from exposure to potentially dangerous warm air, which decreases the life of IT equipment. The design incorporates greater floor-plan flexibility to generate the cooling convection currents that make the cold-aisle strategy work, the server racks are uniformly arranged in rows.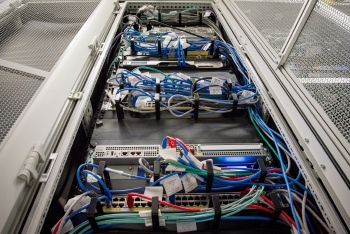 The design also includes LED lighting, controlled by movement sensors which turn on and off according to the presence or absence of people. The use of LEDs reduces the lighting load significantly compared to traditional lighting, with a corresponding reduction in cooling load throughout the data centre.
The facility is centrally controlled by a building management system, together with energy-monitoring technology, enabling efficient use of the equipment and helping identify way to improve energy usage.
To date, these changes have resulted in significant savings.
A 12% reduction in energy consumption has already been achieved through a series of enhanced controls to run the data centre at 27°C instead of the traditional 22°C. This has also resulted in an 11% increase in capacity for accommodating equipment.
Perhaps most impressive, however, are the 8000 photovoltaic panels that enable the centre to run during the summer months on solar energy alone.
The data centre's six air-conditioning units have a total cooling capacity of 300 kW. As the data centre needs less than half of this cooling capability, there is potential to house considerably more equipment, offering flexibility and further growth for the future.
Recognised as a stand-out facility in the industry, Wolseley UK won the 'Data centre cooling impact' award at the 2015 RAC Cooling Awards.
The data centre is completely futureproof, with provision made for further investment, and it is anticipated the facility will, in due course, become one of the greenest data centres in Europe.
Dylan Lupton is IT European data centre infrastructure delivery manager with Wolseley UK.
Related links:
Related articles: