Sanha updates its product catalogue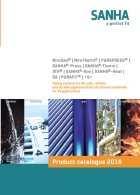 Sanha, a leading European manufacturer of press-fit plumbing systems, has updated its extensive product catalogue for 2016. It is available as a digital and printed version. The catalogue contains the company's extensive range of piping systems, with comprehensive information on products detailing applications, properties of the system and operational conditions.
Managing director of Sanha UK, Barry Parks explains, 'We are constantly trying to find new ways to improve our products and to make life and work easier for the installer, and this really shows in our catalogue.'
A prime example is the NiroTherm and NiroTherm Industry series, a stainless-steel system that reduces costs and labour time in a variety of applications. This range is particularly relevant for areas with high moisture content, such as within screeds, and commercial heating applications where tough corrosion-resistant materials are required.
Related links:
Related articles: