Electric boilers on the rise
As the number of urban high-rise developments continues to increase, so does the trend for electric heating. Alan Clarke of Heatrae Sadia, talks electric wet central-heating boilers and the key points to consider when it comes to product specification.
The number of residential high-rise multi-occupancy developments has steadily risen, especially in large cities such as Birmingham and London. Last year, high-rise construction in London grew by 56% compared to the previous year(1), and according to New London Architecture (NLA) London has 436 new towers in the pipeline, of which three-quarters are wholly or mainly devoted to homes(2).
Where central boiler plants or individual gas boilers have been used to provide heating and hot water to high-rise multi occupancy dwellings, anecdotal evidence suggests that more and more developers are choosing electric options.
From the perspective of the specifier, selecting electric over gas means fewer restrictions, and no flueing, condensate drainage or plumbing issues to consider, which is especially relevant since the guidelines surrounding concealed flues tightened in 2013.
If the properties are to be rented, the landlord benefits from simplified maintenance, as the need for annual gas boiler services — for which gaining entry to individual dwellings is often problematic — is eliminated.
Fortunately, the electric heating market has moved on from the inflexible, largely uncontrollable night-storage heaters that it was once associated with. Heaters that store energy overnight and release it during the day (whether or not it's needed) are not an appropriate solution for today's consumer, so innovative, sophisticated, controllable products that provide heating and hot water when the end user wants it have been developed.
One of the main advances has been the introduction of electric wet central heating flow boilers. Compact, wall-hung and efficient, electric wet central-heating boilers are used in with conventional wet radiators or underfloor heating systems,and provide central heating on demand, when it's actually needed. They are controlled and operated by a programmer and thermostat, working in a similar way to a gas-fired boiler. Our Amptec electric boiler. for example, also modulates in the same way as a gas boiler, improving running efficiency.
To supply hot water to all-electric properties, electric boilers can be teamed with direct cylinders. High-performance unvented hot-water cylinders fed directly from the cold-water mains, will provide powerful showers and fast-filling baths. Our Megaflo Eco can deliver up to 72 l/min of hot water, and there won't be a significant difference in performance if more than one tap or shower is used simultaneously (depending on the mains water pressure and flow rate coming into the property).
Most end users will want an electric boiler to be as comparable to a gas boiler as possible, not only in terms of user benefits like controllability but also operating life. Some electric boilers can have an operating life similar to a traditional cast-iron gas boiler (which can boast a lifespan of around 25 years). High-quality products that last might cost more initially, but will save the property owner money in the long run, while also providing peace of mind.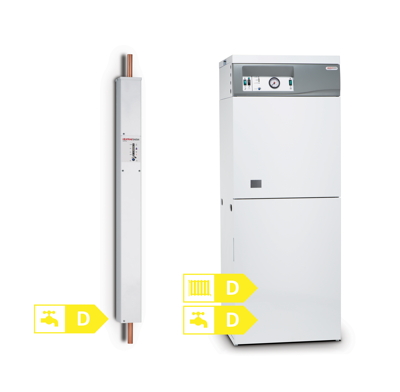 For example, to ensure that our Amptec boilers have a long operational life, several key features were designed into the product. Solid-state technology is used to switch the heating elements to ensure a much longer switching life compared to what is achievable using conventional electro-mechanical devices such as relays and contactors. In addition, the heating elements used in are designed to run at low power density, which is essential to prolong the boiler's life. We chose copper-sheathed elements, as in this particular application they last longer than other materials.
An electric boiler and a hot-water cylinder in one enclosure is provided by our Electromax solution. It is factory assembled and tested and pre-plumbed, and simple to install.
Whilst electric heating was historically considered to be lacking in choice and flexibility, a series of innovations over the last few years has provided a raft of products that offer a viable solution for urban high-rise developments, which meet the needs of specifiers, landlords and residents.
Alan Clarke is technical support manager at Heatrae Sadia.
1 www.architectsjournal.co.uk/ news/high-rise-construction-in-london-shoots-up-56/8680016.article
2 www.ft.com/cms/s/2/870e12f8-1d19-11e6-a7bc-ee846770ec15. html 
Related links:
Related articles: