Boiler has twin returns for maximum efficiency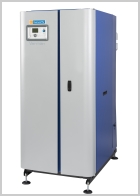 Hamworthy Heating's Varmax range of floor-standing stainless-steel boilers is designed for applications requiring high outputs. There are eight single models with outputs from 120 to 450 kW and four dual models with outputs from 550 to 900 kW. They have Class 6 NOx emissions (<40 mg/kWh).
Twin return connections accommodate split-temperature heating systems, providing greater opportunity for the boiler to condense and improve system efficiency.
Long-term reliability is ensured by high-quality fully welded stainless-steel heat exchangers that are less prone to corrosion caused by poor system-water quality. There is a 5-year warranty on the heat exchanger.
An internal circulation pump with non-return valve provides even heat distribution at low system flow rates, simplifying installation — with no need for a low-loss header or dedicated primary circuit. The internal combustion non-return flap makes the boiler easy to install in cascade flue arrangements.
Varmax boilers have an integrated Siemens LMS control panel with built-in sequence control and expandable control options.
These boilers have natural-gas and LPG capability. Maximum water pressure is 6 bar.
Related links:
Related articles: