Chillers that continue to perform
Applying planned preventative to chillers not only ensure reliable cooling but also energy-efficient cooling, as Phil Philippou of ICS Cool Energy argues.
Temperature control for commercial buildings and offices is vital to keeping a handle on energy consumption, as well as delivering effective cooling to employees and business-critical applications, such as IT server rooms. Although in recent years there has been a continued focus on building controls and their integration into the wider building management system (BMS), what's often overlooked by facilities managers is the critical maintenance of a cooling system. This can easily compromise the whole system when essential maintenance is ignored.
The continuing rapid development of cities across the UK presents facilities managers with many headaches, largely down to the lack of available space for crucial elements of a building's support infrastructure. Cooling is a classic example.
With buildings getting taller and the demand for space in prime commercial locations intensifying, especially in major towns and cities, facilities managers are constantly having to find new ways of accommodating cooling systems that are big enough to support the building, yet able to fit into compact locations. Siting equipment on the roof is becoming increasingly popular, especially for chillers which are at the heart of any cooling system — yet that in itself brings with it a number of issues.
First and foremost, fitting a chiller on a roof is a challenging process. The taller the building, the more difficult the logistics of physically siting the chiller on the roof, not to mention the associated challenges of doing so if buildings are located closely together on very small streets — again a common sight in cities. However, this problem can be compounded by planning regulations which address a building's aesthetics and can often limit the type of chiller that can be located on the roof.
Given that many commercial buildings simply cannot operate without a chiller, leading temperature-control specialists have developed innovative solutions that can help ease the strain on cooling systems in densely populated commercial areas. These include flat-pack units, which can be delivered to site and assembled in the area where the chiller will be installed, removing the need for a crane to install the unit. What's more, low-profile units are also available which can help to overcome certain planning restrictions due to their unobtrusive nature.
Once a chiller has been installed, facilities managers and maintenance teams must avoid fitting the unit and forgetting about it, particularly if it has been installed on the extremity of a building. If ignored, this can fatally undermine the performance of the building's cooling system, affecting energy consumption and the comfort of employees.
Given the continuous operation of a chiller, a planned preventative maintenance (PPM) programme is recommended to ensure the whole system is working effectively. The unit is routinely checked for any minor faults that could turn into larger problems and costly downtime, helping to extend the efficiency and operational lifespan of the unit.
PPM is often overlooked due to the stretched workload of the FM and wider maintenance team, so it makes good business sense to ask the chiller manufacturer for a service agreement as part of the equipment aftersales support.
The remit of a PPM can be as broad as the end-user's needs, starting from covering basic checks such as monitoring oil levels to ensuring the right glycol is used to prevent freeze damage to internal parts.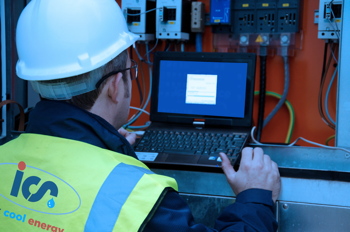 The real advantage of a PPM programme is when condition-monitoring techniques are applied to the unit. Traditionally, electrical assessments of chiller units required the system to be switched off, so they took place out of hours, or during work time at the cost of system downtime.
Now, modern advances in condition-monitoring techniques such as thermal imaging, mean 'at risk' areas can be identified remotely while the system is still in operation.
Any subsequent repairs can be planned at a convenient time to minimise downtime and if no 'at-risk' areas are detected, then the system can continue to run uninterrupted. PPM programmes can also cover leak tests and CIBSE TM44 inspection for air-conditioning systems, in line with F-Gas legislation.
Finally, a PPM-led service agreement means that a unit is likely to have emergency breakdown cover. Our own offering, for example, ensures an extensive network of experienced field engineers is on hand to tackle any unexpected event, 24 hours a day, all year round.
To ensure chillers aren't fitted and forgotten, having a planned preventative maintenance contract, can go a long way to negating many of the potentially damaging effects on a cooling system as a result of unit neglect.
Ultimately, the key to efficient cooling is keeping your assets in the best operating condition possible. Just because it's out of sight, shouldn't mean it's out of mind.
Phil Philippou is director of the ICS Cool Energy service division.
Related links:
Related articles: