A new schedule for maintenance — right not regular

Time-based maintenance schedules will almost certainly see equipment over-maintained or, perhaps worse, under-maintained. Stuart Marsh of ABM UK looks at a different approach.
Thanks to technology, we can update maintenance schedules in real-time, minimising the risk of service failure while saving energy and reducing costs. A short line connects the definition of 'the internet of things' (IoT) and the role of facilities management. Described as 'connecting devices over the internet — letting them talk to us, applications, and each other' — it's easy to start thinking about the possibilities for buildings.
Taking a rural office as an example, the air-conditioning unit in a meeting room works twice as hard when the door is open. Left unattended, that doubles the risk of failure and halves the life of the unit. People suffer discomfort, and building managers bear the cost of replacement hardware.
Traditionally, facilities managers could avoid this scenario if someone happened to pass the open door and think to close it. This strategy relies on the goodwill of others and leaves a lot to chance.
As a backstop to failure, you could always rely on the maintenance schedule. Prescribed and periodical, these timetables for TLC give peace of mind that nothing will go wrong.
But when you look at how these schedules are calculated, they actually lull us into a false sense of security.
At best, they are developed under manufacturer test conditions, using average workloads. At worst, they are an educated guess.
Such schedules don't take into account the specific site environment. Consider again the air-conditioning unit in our rural office. It may well be the same hardware that you would find in a busy urban railway station.
Clearly, the unit in the railway station unit has a tougher time than the one in an office (especially if someone remembers to close the door), but they would both have the same maintenance schedule.
Of course, it was the best that we could do in a pre-internet age — but it created a number of problems.
Units don't actually operate in test conditions, and there is no such thing as an average workload. So you either have over-servicing, and unnecessary, cost or under-servicing, with the risk of failure and expensive replacement hardware.
In this age of connectivity we can mitigate these risks and update maintenance schedules in real-time using live data.
At ABM we have a simple but effective solution for our clients that we call 'Algoram'. Initially designed for use in critical environments such as data centres, it works on the principle that when equipment is about to fail it often consumes more energy.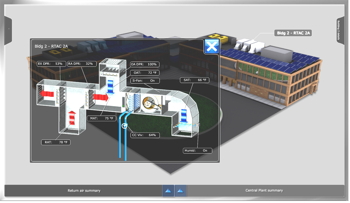 Think about your car at home; if you don't have it serviced regularly and parts start to fail, it starts to use more fuel.
It's the same principle with equipment in a building. If it hasn't been serviced or something is abnormal, the energy analysis will identify spiking or increased energy usage. This is the alarm call for investigation and remediation.
Let's go back to our air-conditioning unit in the rural office. The hardware sends live energy consumption data to the building-management system, alerting the facilities management team to the issue.
'Algoram' does its calculations and adjusts the maintenance schedule in real time, reducing the costs of unnecessary work and unplanned call outs.
Many people fear the upfront costs of using new technology; however, in this case, an initial investment of a few hundred pounds gets you up-and-running.
Building-management systems are capable of receiving large quantities of data from a number of different sources. The greater the number of inputs and the higher the quality of data, the more useful the output will be to the end user.
Not only is it possible to improve building performance as a result of the internet of things and the connectivity of devices, but it is commercially necessary.
Real estate is a considerable cost for any business — whether a large multinational corporation with offices in expensive corporate districts, nationwide retail businesses with multiple shops or tech start-up with a few desks in a work club. It also represents a considerable component of any organisation's environmental impact, something that the whole facilities management industry must help to minimise.
Maintenance is an essential part of building and business performance — but both can be improved with a schedule that is right for the environment and the hardware, and not simply regular.
Regular maintenance is not always right, but the right maintenance schedule will reduce cost, energy consumption and the risk of failure. As far as I'm concerned, this is an attractive proposition for the internet of things and what it is doing for our industry.
Stuart Marsh is systems and infrastructure director at ABM UK,.a provider of facilities solutions.
Related links:
Related articles: