QRL focusing on radiator efficiency
The campaign by British manufacturer QRL Radiator Group for the introduction of an energy-labelling system for radiators — similar to the one used for boilers, renewables, hot-water cylinders and other household essentials based on efficiency ratings A+++ to G — prompts the question what makes for an energy-efficient radiator?
Evidence that the choice of radiator can affect the energy used by a heating system comes from a trial carried out by Nottingham City Homes, which manages around 27 000 homes in the City of Nottingham. The experiment compared the performance of Quinn (the predecessor of QRL) round-top low-water-content radiators against the standard convector radiators found in many of NCH's properties. Over the test period, the Quinn radiators achieved an average energy savings of 5% against the standard radiators. Heat was provided by an A-rated condensing gas boiler.
Jim Flood, technical director of QRL Radiators, explains that the energy efficiency of a radiator is improved by using less steel in its construction and it containing less water for a given heat output. The thermal inertia of the radiator is reduced, improving its efficiency.
Background information from QRL compares the heat output of a 600 x 1000 mm third-generation double-convector radiator with the same size of second-generation double convector.
The main difference is the pitch of the waterways and fins — 25 mm for the third-generation radiator and 33 mm for the second-generation unit. With a ∆T of 50 K to the room, the heat output of the third-generation radiator would be 1914 W, compared to 1709 W. The water content is, respectively, 6 l and about 7 l.
The higher heat output of the third generation radiator enables a smaller radiator to be used, with less weight of water and metal repeatedly being heated and cooling down.
Such third-generation radiators are also more effective with lower ∆Ts — making them well suited for lower-temperature high-efficiency heat source such as heat pumps.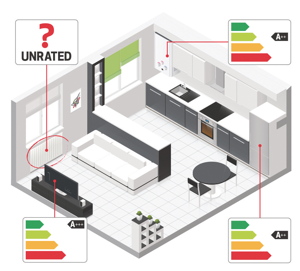 David Kerr, CEO of QRL Radiator Group, says, 'We already have labels in place for boilers, heat pumps, micro CHP and hot-water cylinders, so the introduction of a proper efficiency ratings system for radiators is well overdue. Our "Don't omit emitters" campaign is aiming to make this right.
'Whilst the future remit of the ErP is unclear following the result of the EU referendum, it's likely that product energy labelling will continue in some form in the UK.'
A petition on the company's web site was still active when we went to press.
Related links:
Related articles: